June Newsletter
It's official. Winter has arrived! So we can all look forward to lots of inside sewing time .................... and we have a mountain of fabrics, patterns, notions, workshops and books to inspire you to help you get through a long winter.
Shop News
Winter Workshops
Our Winter Workshops are filling fast. If you enjoyed Summer School, or couldn't get to Summer School, this is your chance to join in the fun………in Winter instead! Click the link here for all the details.

Have you seen that we now have a NEW WORKSHOP on Saturday 2nd July?

A Hand Quilting class has been added for you to enjoy: This class is for beginners and beyond, and takes you through the hand quilting process from the very beginning. In the morning you will be working on the 'rocking' method for quilting using a hoop, and in the afternoon you will move on to learning to quilt to give a more naïve look i.e. bigger stitches.
Up Coming Shows
We'll be having a stand at these events so Save These Dates!
:: 17-19 June – Craft Alive at Prince of Wales Showgrounds, Bendigo
:: 28-31 July – Melbourne Craft and Quilt Fair at Melbourne Exhibition Centre (Jeff's Shed), Melbourne
Block of the Month
"Discovery"
Month three postings for "Discovery" are in the mail! We're still taking enrolments, so it's not too late to join this BOM which features exclusive fabrics especially printed for and only available through participating in this project. "Discover" the beauty of this quilt, month by month!
New Products
Clover Multi-function Patchwork Boards
We just can't keep up with demand for these boards! Including a sandpaper board for tracing, small cutting area and a leather sleeve for laying out to check on the design as you go, and a padded outer just right for keeping pieces in position as you stitch them together, no wonder they are so popular.


Extra Large Fussing Cutting Mirrors
We hope you all know about Fussy Cutting Mirrors – if not come into the shop and we'll do a demo, just for you! Now there's an Extra Large size one, perfect for seeing the possibilities in fussy cutting those bigger flowers and motifs.


Aleene's Stop Fraying Glue
Non-toxic and easy to use for craft and art projects. Easy to apply and can handle repeated washings. Recommended for hems, seams, trims and cording. Dries soft, clear and flexible.


Omnigrid Marking Trio Ruler Set
Made from a durable premium quality plastic and laser cut for a smooth edge that allows for easier, deeper cutting of fabric layers. Includes 4, 6 and 12 inch rulers for quick and accurate marking tasks.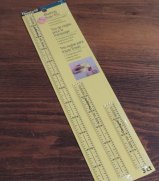 Product of the Month
"Take an Element – Seeing the Possibilities" by Margaret Sampson George
Well yes, we know that "Take an Element" is technically a book so should be featured as "Book of the Month", but this book is Oh, so much more than just a beautiful book. The first section gives comprehensive answers to those often asked questions and comments regarding colour, imagination, fabric storage and notions. We cannot recommend this book highly enough for the invaluable advice Marg gives, in such easy to read and understandable rhetoric.
And then there are the quilts! Unconventionally, Marg encourages the reader to use her quilt and the accompanying pattern information to create something individual, and with the knowledge gained from the first part of the book, this then becomes "do-able". Seeing the possibilities becomes making something spectacular!


Patterns
Laundry Basket Quilts
Elephants are becoming all the rage and if you have a fetish for these giants, Edyta has two patterns, a cushion and a quilt, for you to make.


Sue Spargo
Three more fabulous "woolly bits" patterns from the Sue Spargo range: "In Full Bloom", "Crimson Tweed" and "Flowerbed".


Everyday Quilts
Our very own Sandra Boyle has a new pattern out "Carousel" and we have all her others, "Brocante", "Hopscotch", "Square Dance", and "Vintage Stars" back in stock. A couple of Sandra's quilts are in store at the moment for you to have a closer look!


Round the Garden
Full copies of this pattern are now available for sale; you don't have to wait for each issue of "Simply Modern" magazine to finish this quilt ('though we're sure you'll still love getting "Simply Modern"!).


Fancy Forest
Well! This sold out in a flash!! Happily we have lots more copies, so if you missed out last time, rush in now!


American Jane
Two new patterns from Sandy Klop "Bunny Tales" and "Check Please".


Magazines
:: The June issue of Homespun magazine is NOW AVAILABLE!
:: Quiltmania Issue 113 is here


:: JUST ARRIVED! Simply Modern Issue 5 and Simply Vintage Issue 19 are NOW AVAILABLE!



Did you know we can get in any Quiltmania magazine or book that is currently in print? If you've seen a book you'd like or are missing an issue of a magazine, let us know the title details and we'll order it in especially. We can also set aside any of the above magazines on a regular basis for you – just call the shop with your details.
Fabrics
New Fabrics
:: LIBERTY!! Our delivery of Liberty of London Tana Lawns in here!! We have started with a carefully curated selection of Liberty Classics and will be adding to the range over time. To help with your selection of these luscious fabrics we have


Your desired length off the bolt
Individual fat 1/8th cuts (13¼" x 10" pieces) at $8.00 each (like lollies for big girls!)
Mixed Metre packs which have 8 (yes 8 - not like the pic!) different fat 1/8ths priced at $64.00 per pack.
:: "Giggleswick Mill" by Di Ford-Hall is also here and we have the full range. Featuring a large floral, a column floral and smaller co-ordinating prints in Di's trademark style.


:: "Candy Bloom" by Tilda is an energetic, vibrant range with cute red and blue folklore inspired patterns that bring thoughts of glorious countryside living. We have both bolts and our usual Tilda packs. Normally priced at $81.00 - special price $76.50.


:: "IQSC Provencale" by Kathy Hall for Andover Fabrics. From the International Quilt Study Centre (IQSC), the look of a French country home is reflected in these lovely floral prints. A mix of delicate floral and geometric prints joins the large scale floral print to make a harmonious whole. Selected bolts available.


:: "Toile de Jouy" brings a range of beautiful toiles featuring birds, toiles and co-ordinating prints in a subtle range of hues. Selected bolts available.



:: "Spring" by Kaffe Fassett. In true Kaffe style, a stunning selection of prints from Kaffe's Spring collection featuring large florals and small motifs. Selected bolts available.



Pre-cuts
:: "Chipper" by Tula Pink. This extremely popular pre-cut is now back in stock in Jelly Rolls. If you missed out last time, rush in now! Available in Layer Cakes and Jelly Rolls.


:: "Wing and Leaf" by Gina Martin. Birds, feathers, butterflies, and leaves, with spots, spotty circles and teardrops. Available in Layer Cakes.

:: "Morris Earthly Paradise" by Barbara Brackman is named for an epic poem written by the great designer. He had many talents, among them novelist, publisher and political activist. The fabrics capture the Morris look with seven prints from old swatch books and catalogues. Graceful florals dating from 1874 to 1910 include some rarely seen prints by the master and his apprentices. Available in Layer Cakes.


:: "Little Ruby" by Bonnie and Camille. This mother and daughter team have chosen their most favourite prints from the popular Ruby collection, added in a few from Bliss, and topped it off with some fresh new florals. And made them all very sweet and petite! Available in Layer Cakes and Jelly Rolls.




:: "Dots" a set of spots/dots in a pack.


Books
:: "Brilliant Little Cushions and Pillows" by Kaffe Fassett. The second in a new series of books by Kaffe Fassett, these little quilting gems feature 20 easy patchwork projects to make with Kaffe's popular, colourful fabrics. Each project is shown step-by-step, and each includes Kaffe's signature style of mixing bold patterns successfully. Sewing instruction, patchwork patterns, and guidance on colour and cutting are all included.


::"Christmas Patchwork Loves Embroidery" by Australia's own Gail Pan. Gail's whimsical, cheerful embroidery style is incredibly easy to re-create, whether you're an experienced stitcher or have never picked up a needle. Finishing is easy with projects that are so portable and quick you can stitch while traveling, socialising, or even as you wait for an appointment. Gail explains it all: which needles to use, how to choose thread, how to mark the designs on fabric, how to make each stitch, and more.



:: "Creative Stitching" and "Creative Texturing" by Sue Spargo. Back in stock! "Creative Stitching" includes step by step concise written instructions, along with clear illustrations, for 50 of Sue's favourite stitches. Included are close up, colour, photographic examples of each of the stitches used. The beginning of 'Creative Stitching' gives you a detailed look into the needles and threads Sue uses, and throughout the book are never before seen colour photographs of Sue's work. And "Creative Texturing" takes you through Sue's creative process of designing, planning, and executing highly textural pieces. Discover the beauty of texture through an array of techniques. Learn how to acquire inspiration, develop a design, choose textiles, layer, embellish, edge, and successfully attain surface texture and textural depth within your pieces.


Now in stock from Quiltmania
:: "Meanderings of a Quilt Collection" by Jane Lury. A stunning book featuring some of the quilts collected by Jane from her journeys around the world.


:: "Scrap Valley" by Yoko Saito is a beautiful traditional homecoming, sumptuously interpreted by one of the most famous Japanese artists. Quilts made with collections of fabrics by Lecien.


:: "The Crazy Haberdasher's Inspiring Life" by Brian Haggard. The inspired life of a crazy embroiderer called Brian Haggard, whose artistic talent goes from mixed media to decoration, passing by embroidery and patchwork. From the baroque style to the shabby chic style, find out his techniques and get inspired by his creations to make your own works of art!


Classes
Sit and Sew
If you fancy some time to sit and sew in the company of other stitchers, come along at one of the times below for a little "me" time.
Class: Sit and Sew Tutor: No tutor
When: Friday afternoon - everyone welcome! Just come along with a hand project to stitch, and enjoy a relaxing afternoon of stitching .
Time: 1pm - 3.30pm
Cost: $5.00
For further details on all classes, please visit our website www.sewnandquilted.com.au
Until next time
Carol et al!
"Patchwork Made Possible"
Website: www.sewnandquilted.com.au
Phone: (03) 9877 1664
Email: carol@sewnandquilted.com.au