August Newsletter
We had a fabulous time at the recent Melbourne Craft and Quilt Fair seeing familiar faces, meeting many of our on-line customers, and so many new customers who signed up for this newsletter, we'd like to say a special "Welcome to our newsletter" to friends and customers, old and new!
Shop News
Media
:: Did you hear our radio interview just prior to the Melbourne Craft and Quilt Fair? Carol was interviewed for ABC Local Radio's Sunday Afternoon show. If you missed it, it's now available as a podcast and you can find it at the link here from Soundcloud.
:: Carol was also featured in the local paper, the Whitehorse Leader, recently (edition 18 July "The Spruker" section on page 15) and was interviewed about Sewn and Quilted and about the then upcoming Show.
Up Coming Shows
:: The Australian Quilters Association Inc (AQA) are holding their next exhibition from Friday 2 September through to Sunday 4 September at the Box Hill Town Hall, 1022 Whitehorse Road, Box Hill. Entry is $8.00 and we will be having a stand there.
Show hours are:
Friday 2 September 1.00 – 4.00pm
Saturday 3 September 10.00am-4.00pm
Sunday 4 September 10.00am-4.00pm
:: There's also a special quilt event to be held on Saturday 10 September at the Beaconsfield Neighbourhood Centre, O'Neil Road, Beaconsfield. We will also have a stand there and funds raised will be donated to the Beaconsfield CFA.
Save These Dates!!!! Summer School 2017!
Yes, planning for Summer School in 2017 is underway and full details will be released in the September newsletter, but what we can tell you at this stage are the all-important dates that you need to set aside so you can attend!
Week 1 – 5 days of Foundation Paper Piecing (FPP): 16 – 20 January 2017
Week 2 – 3 days of FPP, plus other classes to be announced in September (read "very special teachers"): 23 – 25 January 2017
New Products
Pumpkin Seed Interfacing
For those who joined us at the Winter Workshops, we now have Pumpkin Seed Interfacing in stock, $8.00 per panel.


Quiltlite
We have another new batting in stock: "Quiltlite" is like a brushed cotton and is perfect for coverlets or for very light quilting. This is the product that Brigitte Giblin uses in her coverlet quilts.
Product of the Month
Quilters' Dream Batting
Quilters Dream Batting uses the finest fibres and state of the art manufacturing to bring you quilt batting of unsurpassed quality and consistency. The company uses the softest, silkiest, high quality fibres so that your quilt will resist shrinkage and stay soft yet strong and wonderfully drapeable. Each batt is hand cut and carefully inspected. Quilters Dream Batting proudly presents premium quality quilt batting that will provide warmth, drape, volume, definition and support to your quilt through generations.
Highly recommended for super hand quilting, we have this product available in 100% cotton in Twin, Double and Queen size batts.


Patterns
Folk Tails
Sue Spargo's latest pattern release, "Folk Tails" has just arrived in stock! A charming and quirky quilt filled with animals drawn in Sue's inimitable style.
Contact the shop to order your copy!


Stitches to Savour 2017
Not really a pattern, we know, but Sue Spargo's 2017 calendar "Stitches to Savour" has also arrived.
Indulge in another year of beauty! Following her best-selling 2016 wall-art calendar, this all-new calendar of captivating stitcheries explores Sue's distinctive combinations of simple shapes and superb stitches. The opulent images of vibrant thread, lush fabric texture, and bright embellishments are yours to enjoy every month throughout 2017. Turning the pages of Stitches to Savour 2017: Wall-Art Calendar of Designs by Sue Spargo will be the highlight of your month as you savour each stunning stitch.
Make sure you don't miss out (we know how popular last year's calendar was!) by contacting the shop to order your copy.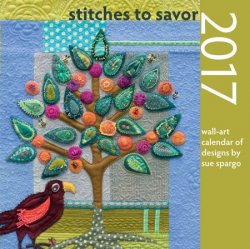 Magazines
:: Quiltmania Issue 114 is here


:: Simply Modern Issue 6 is due in September
We have managed to secure a few back issues of the first four magazines of Simply Modern for anyone who missed out and wishes to collect the series.
Did you know we can get in any Quiltmania magazine or book that is currently in print? If you've seen a book you'd like or are missing an issue of a magazine, let us know the title details and we'll order it in especially. We can also set aside any of the above magazines on a regular basis for you – just call the shop with your details.
Kits
Fandango! by Tula Pink
This stunning quilt by Tula Pink features her newest fabric range "Slow and Steady" featuring a tortoise and hare, drawn so beautifully by Tula, and indulging in fabulous colours.
Numbers of this quilt kit are strictly limited, so contact the shop to pre-order your kit now! If you are pre-ordering, a $50.00 non-refundable deposit is required and cost of the kit will be approximately $300.00 plus postage and expected delivery is October 2016.


Big Block Holder
Carol has designed a gorgeous Big Blog Holder, perfect for holding your blocks while you work on them or to take them to class/sewing group. It will hold up to a 16½" block and is available as a kit or as a pattern.


Akahana
From Red Rooster Studios, the Akahana collection features an Asian panel with two graceful red-crowned cranes in flight on a background of bright red peonies and swirling ribbons reminiscent of the traditional ribbon dance. The cranes, peonies, and ribbons are enhanced with fine gold metallic highlights that add an elegant touch.


Storybook Christmas
It's the perfect time of year to be preparing for Christmas and this oh, so sweet vintage 1930's Christmas book is a delight. Kits are just $87.50 and there are 1½m packs available for backing for the kit or to make 2 Santa Sacks at $34.50. Can be made as a story book or as a quilt; we have both in store for you to see. (Check out "New Fabrics" below.)


Holiday Christmas Panel
A rich, old world Christmas Panel with a roaring log fire, stockings hanging above, a toy soldier on the mantle and a holly wreath above, all waiting to be embellished and hung ready for your Christmas.


Alphabet Story Book
Alphabet Story is inspired by a typical cloth book from the 1940's. With the continued popularity of illustrated alphabet books, this collection is sure to delight today's pre-schoolers and toddlers as they travel back in time, plus the book panel is set up in perfect order so you can sew this special alphabet book! $18.00 per panel.


"Sweet Baby" kit
From the "Sweet Baby Flannels" fabric range by Abi Hall, Carol has designed this quilt as a receiving blanket for the newest little treasure in your family.
Fabrics
New Fabrics
:: "Storybook Christmas" by Whistler Studios. Bring some vintage holiday cheer to your home with this 1930's Christmas collection! Never before seen, the holiday spirit is alive and well in this line. Frolicking snowmen, Santa and his reindeers, snow globes, bells and holly along with other signs of the season are delightfully rendered by Whistler Studios. Featuring an adorable book panel that makes the perfect gift for your littlest one. Also available in packs and see "Kits" above and pre-cuts below.


:: "Memory Lane" and "Cabbage Rose" by Tilda. The goodness just keeps coming from this talented lady! In amongst the Tilda florals, in these ranges you'll find cute bunnies and some solid prints too.



:: A Day in the Country have a range of three prints, dots, stripes and checks in a fantastic array of colours and are brilliant filler fabrics.


:: "Thicket" by Gingiber. Gingiber is an illustrative paper goods & homewares store based in the Midwest of America. Filled with prints, pillows, and tote bags that are sweet enough for children but smart enough for adults, Gingiber tries to find the perfect balance of artfulness and playfulness in each illustration. Now they're venturing into fabric with "Thicket" and we have two of the fabrics from the range.


:: "Yuwa". A practical tan and cream stripe from Yuwa Japan.


Pre-Cuts
:: Emma Louise Solids from Victorian Textiles. This high quality quilter's muslin comes in a discerning range of colours. The packs are perfect starter pack for those making "Vintage Stars" (pattern by Sandra Boyle) or to team with our beautiful Liberty fabrics! 11 x fat 1/8th's for just $19.50!!


:: A Day in the Country as mentioned above, these fabrics are now available in packs of two different colourways for your delectation! 10 x 25cm x WOF normally $50.00 pack price is just $44.50!
:: "Grand Traverse Bay" by Minick and Simpson. Featuring a range of blues, along with yellow and ivory, these fabrics have a feel of the sea in years gone by. Available in Layer Cakes and Jelly Rolls. Be quick - these are already favourites!


:: "Memory Lane" and "Cabbage Rose" by Tilda. As we always do, this gorgeous range is also available in pre-cut packs at special pack prices.

:: "Storybook Christmas" by Whistler Studios. Available in two different packs 10 fabrics x 25cm x WOF $59.50
Books
:: "Promenade in a Dutch Garden" by Petra Prins and An Moonen. Dutch Ladies Petra Prins and An Moonen are a winning duo: these two specialists of Dutch antique quilts have worked together to make reproductions of museum pieces of work. A beautiful journey in the past is going to begin!
We're very excited that this excellent Quiltmania published book is due to be reprinted and is available to pre-order if you missed out on getting a copy first time around. Delivery is expected late August.
Classes
Sit and Sew
If you fancy some time to sit and sew in the company of other stitchers, come along on a Friday for a little "me" time.
Class: Sit and Sew Tutor: No tutor
When: Every Friday afternoon - no bookings required - just come along!
Time: 1pm - 3.30pm
Cost: $5.00
Full details on the website, or contact the shop.
For further details on all classes, please visit our website www.sewnandquilted.com.au
Until next time
Carol and team
"Patchwork Made Possible"
Website: www.sewnandquilted.com.au
Phone: (03) 9877 1664
Email: carol@sewnandquilted.com.au