October Newsletter
Spring is here! The wattle is out, blossom is blooming and our shop is looking just as bright and colourful with loads of new fabrics adorning the shelves, including new ranges from Tula Pink and Victoria Findlay Wolfe, but more of that later……read on……..
Shop News
2017
:: Planning is well under way for 2017…..…yes, already! It's going to be a big and exciting year with lots planned for everyone. We shall keep you posted!
Save These Dates!!!! Summer School 2017!
We're just finalising the very last details for Summer School in 2017 and full details will be emailed to you later this week with BOOKINGS TO OPEN NEXT TUESDAY 10AM. Watch out for our emails! Here again are the all-important dates that you need to set aside so you can attend!
Week 1 – 5 days of Foundation Paper Piecing (FPP) with Carol: Monday 16th – Friday 20th January 2017
Week 2 – 3 days of FPP with Carol, PLUS we can now confirm for you that both Wendy Williams and Di Ford-Hall will be joining us for the second week: Mon 23rd – Wed 25th January 2017 How exciting is that!!
BOM Update
"Discovery"
If you are interested in joining us for this BOM, we still have a few spots left. Contact us asap if you're interested.
"Campania"and "Pemberley"
There are some beauties of these quilts coming along in some of our classes. Let us know if you'd like to join in for any of our BOM's. Check them out: Campania and Pemberley.
New Products
Our stock of this product sold out quickly last time; it's now back in stock if you missed out.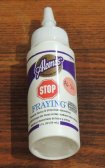 18mm Rotary Cutters
New in stock is this tiny 18mm cutter, and of course, replacement blades. Perfect for using with acrylic templates and for curved cutting; the small blade makes cutting curves a doddle!


Stripology Rulers
These Stripology Rulers sell out so quickly. We're pleased to say they're back in stock!
Olfa Frosted Advantage Rulers
Olfa's Frosted Advantage Rulers are easy use; the frosted underside firmly holds the ruler in place when pressure is applied (i.e. when you're ready to cut). The frosting make the ruler's grid lines easy to see, no matter what colour fabric you have underneath, and they are non-glare making it easy to line up for your cut.
We have these rulers in stock in sizes 6½" x 6½", 9½" x 9½" and 6"x 24".
Thergonomic Hand Aids
Thergonomic Hand Aids provide a simple way to relieve the painful stress and strain on hands that commonly afflict sewists, quilters and knitters. The gloves' hand hugging blend of nylon and stretch Spandex creates a firm pressure that will massage hands and wrists as it supports, providing comfort and relief for sufferers of arthritis, tendonitis, carpal tunnel, and other repetitive motion activities.


Product of the Month
Dome Needle Threader
A novel threaded needle case in which threads are wound in a reel. Up to 10 threaded needles can be neatly stored away. Threads will not tangle with the Needle Case. Spend a few minutes threading and adding 10 needles to the case, then stitch, and stitch and stitch! Perfect for hand piecing. Fabulous for applique - 10 different coloured threads! And essential for hand quilting!


Patterns
:: We have two new patterns from Tilda to showcase their beautiful fabrics; a hexagon quilt pattern "Memory Lane" and a pieced and appliqued pattern "Cabbage Rose" to go with the two new lines by the same names that we currently have in stock.
Also from Tilda are these oh so gorgeous quilt labels. Just write or stitch your name in the blank and sew to your quilt or bag for the perfect finish.


:: From Sue Daley, a pattern featuring a collection of pin cushion designs

Calendars
:: Sue Spargo's 2017 calendar "Stitches to Savour" is here.
Indulge in another year of beauty! Following her best-selling 2016 wall-art calendar, this all-new calendar of captivating stitcheries explores Sue's distinctive combinations of simple shapes and superb stitches. The opulent images of vibrant thread, lush fabric texture, and bright embellishments are yours to enjoy every month throughout 2017. Turning the pages of Stitches to Savour 2017: Wall-Art Calendar of Designs by Sue Spargo will be the highlight of your month as you savour each stunning stitch.
Make sure you don't miss out (we know how popular last year's calendar was!) by contacting the shop for your copy.


:: "Quilts from a Painter's Art" by Diane Phalen. A lovely gift for anyone who recognises the beauty of fine design, these calendars are big (1 foot by 2 feet) and of the highest quality. Each month has a brief description of that month's quilt and the reproductions are sharp and vivid, showing detail like Diane's Limited Edition prints.


:: "New Hexagon Perpetual Calendar" by Katja Marek is a desk style calendar. Wake up each morning to a bright new hexagon! Discover the possibilities of EPP as you create dynamic shapes and designs year after year with this perpetual calendar. There are 365 vibrant 6" hexagon blocks, plus an extra blog for leap years. Each hexagon includes a block photo, a placement diagram for each assembly and full sized templates. The sturdy spiral binding will keep each easy-to-turn page of the calendar intact for years of enjoyment.


Magazines
:: Quiltmania Issue 115 is now in stock
:: Simply Moderne Issue 6 is now in stock


Did you know we can get in any Quiltmania magazine or book that is currently in print? If you've seen a book you'd like or are missing an issue of a magazine, let us know the title details and we'll order it in especially. We can also set aside any of the above magazines on a regular basis for you – just call the shop with your details.
Fabrics
New Fabrics
:: "Meadow Storm" by Victoria Findlay Wolfe. Prairie weather and family connections prompted Victoria's new collection. Learning about good fresh food, weather patterns and colour from her grandparents, Victoria's second obsession is gardening and the memories of her childhood, running through the garden paths. She says the line is "inspired by living on the farm and harvesting the food we grew. Minnesota weather is always interesting!" Victoria combines timeless elements with a graphic approach to create a fresh and modern "Meadow Storm". This is but a taste – we have the whole range in stock………but for how long? PLUS CHECK OUT OUR SPECIAL PRICE ON OUR VICTORIA FINDLAY WOLFE FABRIC PACKS - click here.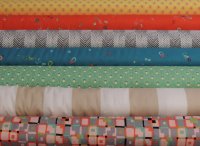 :: "Slow and Steady" by Tula Pink. Tula's latest, much awaited and 20th!, new range is now in stock! 25 gorgeous new prints with the introduction of a delightful hare and tortoise, and all that's involved in "the race", including the pit crew (snails) and the winning cup. Here's a taste of the whole range. PLUS CHECK OUT OUR SPECIAL PRICE ON OUR TULA PINK FABRIC PACKS - click here.


:: "French Country" by Sara Morgan for Washington Street Studios. Circa 1850, we've chosen three stunning script fabrics from this range to add to your "text" collections.


:: "Quilters Linen" from Robert Kaufman. Four basic colours, white, black and two blues from this range of 100% cotton, linen look line.


:: "Holiday Flourish" by Peggy Toole. Peggy Toole has always been enchanted and inspired by the romance of foreign and by-gone cultures. Though trained at Washington University and University of Michigan as a classical figure painter and printmaker, she soon found herself attracted to more decorative styles of art which incorporate brilliant colour and bold shape with ornate surface design or texture. We have a selection from this range.


:: "Postage Stamp" by Mary Koval. Postage Stamp circa 1840-1860 is a beautifully rich reproduction line by Mary Koval. Featuring an all over Postage Stamp design that can easily be cut apart or used as a whole cloth for quick and easy projects. Rich shades of blues, stately reds, warm golds and serene greens make this collection a must have and we have the whole range.


:: "Madame Rouge" by French General. Two beautiful bolts from this latest range by French General.


:: White Backing Fabric. This extra wide tone on tone print is perfect for a backing or to use as a background for an applique project.


:: Kaffe Widebacks. Four stunning wide backs from that master of fabric design, Kaffe Fassett.


:: Liberty. We have added 10 fabulous new bolts to our Liberty range.


:: Animal Quackers by Maywood Studios. A delightful 1930's style range of children's prints featuring baby animals and co-ordinating prints including strips, spots and "crackers". Full range available.


:: Simply Solids by Maywood Studios. To co-ordinate with the Animal Quackers range, these gelati coloured solids are totally scrumptious!


:: Penny's Pets by Darlene Zimmerman. Still in the 1930's genre, two sweet fabrics from Darlene Zimmerman.


:: Yuwa. Four fabrics from Yuwa, two checks and two stripes printed in meticulous Yuwa fashion.


:: Eternal Sunshine by Amy Butler. The garden is Amy's muse and a key inspiration for this print celebration of timeless blooms and graphic flora. Two prints available.


:: Stonington by Denyse Schmidt. Evokes a beautiful preppy/bohemian vibe with cool understatement. Think 70's rock stars, Ali McGraw, patchwork everything, tiered flounces, lots of prints mixed together, big floppy hats, wide-legged pants, and scarves galore. 5 prints available.


:: Betsy's Basket by Darlene Zimmerman. More along the lines of reproductions than Darlene's usual 1930's designs, these two fabrics feature a toile print in either red or blue.


:: Lucy's Collection by Jennifer Chiaverini. Designed by the New York Times bestselling author Jennifer Chiaverini, Lucy's Collection is named for a main character and narrator in her new historical novel, Fates and Traitors: A Novel of John Wilkes Booth. Lucy's Collection reflects the fabric designs and colours typically found in quiltmaking and dress goods available in the Civil War era. Two fabrics available.


:: Basically Low by Helen Stubbings. A collection of prints inspired by vintage typewriters and familiar quilting and sewing terms. 2 fabrics available.


Pre-Cuts
:: "Meadow Storm" by Victoria Findlay Wolfe. (See above). We've cut this range into our usual pre-cut packs for your delectation!
:: "Slow and Steady" by Tula Pink. (See above). This range we've also cut into our fabulous packs! Get a taste of the whole range.
:: "Wing and Leaf" by Gina Martin. Building on Gina's first collection "Wrens and Friends", these prints celebrate all those things that make a garden lively; butterflies flitting from flower to flower, birds chirping to each other in conversation, the loose feathers that are always found where birds nest and fanciful leaves in a variety of shape sand colours. Available in Jelly Rolls.


Books
:: "Quilts in Italy" by Kaffe Fassett. Kaffe and his team have put together a great range of quilt designs in striking colour combinations including both classic and contemporary blocks; there is a quilt for every taste and skill level. Photographed on location, the quilts glow against the back drop of the cluster of hill towns known as the Cinqueterre with lusciously painted houses on the shores of the Mediterranean. "Quilts in Italy" is a show stopping feast of colour and gives quilters full practical information on cutting and stitching each quilt, along with templates and practical know-how.


:: "Bold Blooms" by Kaffe Fassett. A stunning guide and vibrant pattern collection of 25 new patchwork and needlepoint projects from renowned colour expert and quilt and fabric designer, Kaffe Fassett. Drawing inspiration from the natural beauty of flowers, Kaffe's new book invites crafters to explore the behind-the-scenes process and fascinating design methods used to create Kaffe's bold fabrics and modern colour palettes—from "sketching" with fabric swatches to creating mood boards and renderings to sewing visually striking quilts. Featured throughout are 18 new quilt patterns and seven new needlepoints.




:: "Folk Tails" by Sue Spargo. Sue's newest book is full colour instructions manual for making this delightful wool appliqued and embroiders quilt. It also features African folk stories about many of the animals featured in the quilt's design.
:: "My Enchanted Garden" by Gretchen Gibbons. Bask in beautiful designs from Gretchen Gibbons. This captivating collection features "My Enchanted Garden"--blue-ribbon winner for "Best Use of Embellishment" in the 2009 Pennsylvania National Quilt Extravaganza.


:: "Quilts and Projects from my Favourite Fabrics" by Yoko Saito. What better way to celebrate her twenty years anniversary of designing fabrics for LECIEN than by publishing a book full of bags, quilts and projects. Yoko Saito, quilter and designer extraordinaire, renowned for her stunning use of Japanese-inspired "taupe colours" gives us yet another book in her quintessential style. There are twenty-eight fabulous projects in this book along with basic "how-to's" for patchwork and quilting using her methods.
Classes
It's not too late in the year to join in a class to get you started, or to finish off a UFO.
We currently have a couple of spots in the following classes:

- Glenda on the first Wednesday morning of each month for embroidery, embellishment and English Paper Piecing

- Meredithe on Thursday afternoons each week for Kindred Spirits general choice sewing

- Carol on the second Wednesday each month for hand-sewing on your choice of project.

Bookings essential! Contact the shop for further details.
For further details on all classes, please visit our website www.sewnandquilted.com.au
Until next time
Carol x
"Patchwork Made Possible"
Website: www.sewnandquilted.com.au
Phone: (03) 9877 1664
Email: carol@sewnandquilted.com.au