December Newsletter
The end of 2016 is fast approaching - how did that happen?! We'd like to take this opportunity to thank you for your patronage during the year and to wish you and your families a wonderful Christmas and we look forward to an exciting 2017! Without all of your support, in whatever form, we wouldn't be a patchwork shop, so THANK YOU!

We have some news of events planned for 2017 and some fabulous suggestions for Christmas gifts, including GIFT CERTIFICATES of course (print that bit out and leave it prominently on the bench for family members to see so you get exactly what you need/want!!), so read on………
Shop News
Christmas Party
:: Reminder: We are having our Christmas Party on Saturday, 17 December from 1.00 – 3.30pm and all our students and customers are invited to come! It's certainly shaping up to be a fun day!
We will be revealing some details on 2017's BOM's, several of which are still under wraps, but we can tell you that once again, Sewn and Quilted is the only Australian shop for Quiltmania's Block of the Month for next year, made by Australia's own Michelle Yeo and featuring her Torrington Place fabrics. How good is that!
Please bring along your Show and Tell for the year, something finished, something started; UFO's are Most Welcome! We all love show and tell, so please don't be shy; we would love to see what you have made/on the go. If you would like to bring a small plate of food to share that would be lovely. We will provide fruit punch, tea and coffee.
And as we've outgrown our shop for this party, the shop will be closed during the event and we will be at One Community Church, 184 Surrey Road, Blackburn (opposite Blackburn Primary and where we hold Summer and Winter Schools). There is plenty of off-street parking and the venue is air-conditioned.
Cost is $5.00, payable in advance if possible, so please contact the shop to book your spot. See you there!
P.S. There will be door prizes, and you'll have the first opportunity to book into our BOM's for 2017.
Summer School 2017 Update
:: We're so looking forward to Summer School! Bookings have been very strong - there are just a few vacancies in the Foundation Paper Piecing 3 and 5 day classes and in Di Ford-Hall's 1 day "Colour Confidence" class, and also in Wendy Williams 1 day "Playing with Felt" class, so it's not too late to book in if you were thinking of doing these classes. Contact the shop for more details and to book your spot.
New Products
Tilda "Sew in Love" 2017 Calendar
:: As you would expect, this calendar is so sweet with each month's photo featuring beautiful Tilda fabrics and/or soft toys. Perfect Christmas Gift!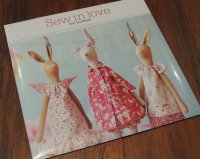 Bags and Totes
:: Carefully carried back from Houston by Carol, these limited bags and totes are from Anna Griffin and Maude Asbury. Made from sturdy vinyl, the totes are strong, capacious and perfect for carrying to class or sewing group. Zipper bags are $22.00 and the totes are $74.50 each. Gorgeous Christmas Gift!


Aurifil Thread Club
:: Aurifil have just put out a new range of threads, this time in 80weight 100% cotton. It is getting rave reviews and no wonder! There are 88 colours in this range and the wooden spools are 300yds (274m). With the thread being so fine, it's simply perfect for hand applique, EPP and machine embroidery, applique and quilting.
So, in 2017 we are going to have an Aurifil Thread Club, based around the small 50weight and small 80 weight threads. All details to be revealed soon; watch this space!
Desk Top Lamp
:: With a long flexible neck to freely position the light the Triumph LED is one of the most efficient magnifying lighting systems around with a stylish design that's great for working and reading.


Quilters Clamp
:: Quilters Clamps are a versatile tool for any quilter or sewing enthusiast. For Long Arm Quilters, this unique clamp allows you to lock off directional channels by placing the Quilters Clamp in the channel wheels. The rubber feet stop the wheels in their place allowing you to work in a vertical or horizontal area. For Hand Basting, use the Quilters Clamp to secure your quilt to any table up to 2" thick. The clamps' rubber feet grip the fabric and hold things nicely in place. Or use as a Hanging Hook to hang useful items from your work area for easy access right at your sewing table.


Meredithe Clark Templates
:: Our very own Meredithe Clark has designed some more templates this year under her Meredithe Clark Signature Collection range, Gateaux and Saigon - now available in store and on-line.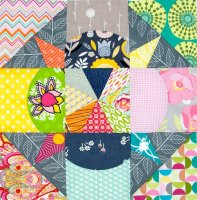 Product of the Month
Templates for Sandra Boyle Patterns
Meredithe is also now working in conjunction with some of Australia's quilt pattern designers and producing templates to accompany these patterns. There are no instructions with these templates as they are designed to work with the relevant pattern. There are 3 from the Meredithe Clark Designer Collection to go with patterns we currently have for Sandra Boyle, "Carousel", "Peony Medallion" and "The Welsh Quilt". We all love a template and we do love Sandra's patterns, so now it's the best of both worlds!


Contact the shop to order your template set/s!
Christmas Gift Ideas!
As well as those items, highlighted above, we have the following suggestions………..
:: Our Gift Vouchers are always a popular Christmas Gift Idea; the recipient gets the double pleasure in choosing what to spend the voucher on!
We've put together some great Packs for you this year, at super special prices, CONTACT THE SHOP TO ORDER YOUR PACK:
:: Travel Pack……………..
** 1 x Foldable Cutting Mat
** 1 set 3" Perfectly Adjustable Rulers
** 2 x small 50 weight Aurifil threads
** 1 x small Canary scissor (plane safe)
** 1 x 28mm cutter
Value price: $121.85 Christmas Special Price: $99.50
(Carol took the foldable cutting mat and 3"adjustable ruler set with her to USA this last trip and found them invaluable)


:: Hand Piecing Pack…………………….
** 1 x Ironing/Cutting Mat
** 1 x Craft Case
** 1 packet #9 Tulip Piecing Needles
** 2 x small 50 weight Aurifil threads
** 1 packet Applique Pins
** 1 x small scissors
** 1 set of 10 small Clover clips
Value price: $119.40 Christmas Special Price: $96.50


:: Hand Applique Pack…………………….
** 1 x Ironing/Cutting Mat
** 1 x Craft Case
** 1 packet #9 Black Gold applique needles
** 1 x purple donut of 100% cotton Signature applique threads
** 1 packet Tulip applique pins
** 1 x small Karen Kaye Buckley scissors
** 1 x small pincushion
Value price: $192.30 Christmas Special Price: $149.50



Patterns
:: From Sue Spargo "Victoria", a knitting and sewing tote, perfect for using up scraps and employing a little felted wool and embroidery work.


:: "Fold 'n Stitch Wreath" from Poor House Quilt Designs. This pretty seasonal, dimensional wreath can be whipped up in an afternoon.


:: Two patterns from Painted Pony 'n Quilts; "Faded Roses" and "Rain Lilies"


:: Aunties Two have designed this with Christmas in mind, "Sleigh Full" can be used to hold cards, lollies or Christmas decorations.


:: "BeColourful" by Jacqueline de Jong have released more amazing patterns for 2016, and we are pleased to be able to offer these 6 new ones to you.
"Infinity"


Magazines
::
:: Quiltmania Issue 116 is here with the final instalment of "Discovery" included.


:: Simply Moderne Issue 7 is here


Did you know we can get in any Quiltmania magazine or book that is currently in print? If you've seen a book you'd like or are missing an issue of a magazine, let us know the title details and we'll order it in especially if it's still in print. We can also set aside any of the above magazines on a regular basis for you – just call the shop with your details.
Fabrics
New Fabrics
:: "Elizabeth's Dowry" by Australia's own Karen Styles in collaboration with the Quilters' Guild of the British Isles. Inspired by an original Mariners' Compass quilt from the 1800's the collection combines traditional inspiration with today's digital printing technologies. There is a fabric panel of a large Mariners' Compass and four small ones ($21.00 per panel), plus accompanying prints taken from the original 1800's quilt including a fabulous leopard print, small and medium florals, spots, stripes, plaids and checks. This is just a sample. Full range available.
There is also a free pattern download which we can kit for you – just contact the shop.


:: "Fandango" by Tula Pink. Tula's much awaited and eagerly anticipated "Fandango" kits are here! We do have a couple of spare kits if you didn't order one. Please contact the shop.


:: "Aunt Grace" by Judy Rothermel. Just to add to our wonderful 1930's collection, another 6 prints of these beauties by Judy.


:: "Playdate" by MyKT is a sweet, vintage 1930's-inspired collection. A main pattern features Ann and Bobby, two playful children making their way happily through the day. Another new 1930's range has just made it onto our shelves also: "Morningside Farm" by Darlene Zimmerman - check our website for details of this very cute range.


Pre-Cuts
:: "Spring-a-ling" by American Jane. Sweet florals, check, stripes and spots in spring colours.


:: "Garden Notes" by Kathy Schmitz in steel blues, greens, creams and soft yellows.


:: "Slow and Steady" by Tula Pink. Tula's latest range is available 10" squares and now in 4.75" hexagons!


:: "Modern Solids" by Denyse Schmidt is a curated selection of 10" solid squares


:: "Corner of 5th and Fun" by Sandy Gervais. Cute novelty prints in soft baby colours.


Books
:: "Moda Mini Marvels" compiled by Lissa Alexander. Join 15 of Moda's all-star designers as they explore creative small quilt patterns that you'll love to stitch. These mini-quilts are tailor-made for scraps. With designs ranging from easy to intricate--plus many make-in-a-day designs--these fun little quilts are showcased in photos that will inspire you to display your mini creations as artful accents to your decor. Featuring patterns by: Pat Sloan, Carrie Nelson, Brigitte Heitland, Camille Roskelley, Me and My Sister Designs, Sherri McConnell, Sandy Gervais, Edyta Sitar, Lynne Hagmeier, Vanessa Christenson, Anne Sutton, Laurie Simpson, Jen Kingwell, Lisa Bongean, and Betsy Chutchian.


:: "Little Handful of Scraps" by Edyta Sitar.
This book has been ordered, and expected to arrive soon!
Playful little quilts to fall in love with!
From playful to precious this collection of mini quilt patterns is designed to inspire quilters of all ages. An accomplished quilt and fabric designer, Edyta Sitar explores a myriad of tiny creations, pondering and playing with her favorite scraps until a quilt is born. It's your turn to take inspiration from these tiny treasures and discover the magic of miniatures with your favorite
• 32 Mini Scrappy Quilt Patterns
• Appliqué and other quilting tips
• A sprinkling of vintage finds
Classes
Planning is underway for 2017 classes. Many of our regular classes will be the same, but there just might be some new ones too!
Wishing you a wonderful Holiday Season everyone!
Carol
"Patchwork Made Possible"
Website: www.sewnandquilted.com.au
Phone: (03) 9877 1664
Email: carol@sewnandquilted.com.au