Newsletter January 2017
The beginning of a new year is always exciting, with all the events and products that are happening/coming, and we have heaps to share with you already!
Shop News
Christmas Party
:: Before we venture too far into 2017, just a quick recap of the last part of December. Approximately 70 people turned up for our Christmas Party, and they brought with them an amazing array of Show and Tell of their year's work, adding to the fantastic festive atmosphere! It was a great way to celebrate the achievements of 2016 and if you missed out, make sure you book in for this year's Party. Thank you to everyone who came; it was a wonderful ending to the year!

Summer School 2017 Update
:: Week 1 has been and gone and we are gearing up now for our second week of Summer School which starts on Monday. Our first week of Foundation Paper Piecing was AWESOME, with lots of beautiful quilts well under way. Thanks to everyone who joined us for helping to make it such a fun week.

POSTPONED - Di Ford-Hall's classes during week 2 of Summer School have had to be postponed, as Di needed to have unexpected surgery on her shoulder. This only all came about a few days ago, and thank you to all of the students booked into her classes for your understanding. New dates will be set as soon as possible.
SIT AND SEW OPTION AT SUMMER SCHOOL - As we had the venue already booked and a room allocated to Di's classes, we have decided at the last minute to offer a Sit and Sew option for anyone interested. No machines, just any sewing (or similar) done by hand is fine.
Here are the details:
- there are 3 days to choose from, being next Monday 23/1, Tuesday 24/1 and Wednesday 25/1. Come for one day, two days, or all three days! No teaching, just a lovely social opportunity with other people.
- Cost is a flat $15 per day. Included in the cost is a delicious morning and afternoon tea, along with on-going tea and coffee.
- Time is 10am - 4pm. Come for all day, or just part of the day.
- All welcome! However, please indicate your interest for catering purposes - ring us on (03) 9877 1664 or email is fine.
- Address is One Community Church, 184 Surrey Road, Blackburn (opposite Blackburn Primary)
- plenty of on-site parking, and venue is air-conditioned
Hope to see you there!
Blocks of the Month
We have five, yes you read it correctly, five BOM's to offer you this year. Expressions of interest are being taken now and full details will be available shortly (just waiting on some supplier information), but we'd like to show you the quilts, just to whet your appetite!
:: "Isabelle"


:: "Getting to Know Hue"


:: "Quiltmania Mystery Quilt for 2017" is designed by Australia's own Michelle Yeo and features her "Torrington Place" fabrics. And as it's a mystery these blocks are all we can show you! Enrolments are being taken now. See our website for full details.


:: "Bird Walk"


:: and "While the Cat's Away" is a fabric and wool felt combo from Wendy Williams


New Products
Retayne
:: Stop the bleed! Fabric bleed that is; this is a colour fixative for commercially dyed cotton fabrics. (Please read the instructions and test before using)


Clover Quilting Pins - Fine
:: New from Clover, these fine quilting pins smoothly pass through fabric, as the pin tips are thin and sharp; the pin head is made of iron proof glass. The long size pins are perfectly suited for quilting. 100 pins/case. Size: 0.50 x 48 mm.


Aurifil Thread Club
:: What could possibly be in this box? (Take a deep breath before reading further; some people have been hyperventilating!)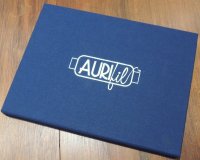 It's the new, gorgeously colourful Aurifil 80 weight 100% cotton thread. There are 88 colours in this range and the wooden spools are 300yds (274m). With the thread being so fine, it's simply perfect for hand applique, EPP and machine embroidery, applique and quilting.
These threads will be available by the box (pictured above), individually, or through our Aurifil Thread Club (cheaper than buying individually). This thread has proven to be extremely popular and we are currently waiting for our order with bated breath! Contact the shop to pre-order the box, or to have your name put on the Aurifil Thread Club list. we are very busy trying to source this product asap for you, but as this is a new product on the market, there is currently huge worldwide demand for it. But getting your name on our Expressions of Interest list is a good place to start!! Phone us or email if interested.
Bobbin Box
:: A really neat way to store and/or carry your bobbins is this Bobbin Box which holds 28 standard size bobbins. Ideal for winding smaller amounts of larger coned threads used for applique or embroidery – all in one compact unit.


Needles
:: For our embroiderers, we now have in stock the John James Embroidery Needles #9 and the Richard Hemming Embroidery Needles #3-9


Hex 'n More
:: Designed by Julie Herman of Jaybird Quilts, this ruler can cut 4 different shapes in 4 different sizes and comes with full colour instructions. The pieces can be cut from strips.


Bloc Loc Flying Geese
:: Bloc Loc Flying Geese Rulers are size specific and will work to trim one singular size of flying geese (the size listed). The Flying Geese Rulers can also be used to trim Square in a Square blocks the size of the ruler or smaller. For more information on how to use the Flying Geese rulers, check out the Flying Geese Video.


Yazzii Bags
:: We have two new Yazzii Bags in stock;
the Project Pouch as 7 pockets, 5 of which are clear plastic for easy viewing of the contents;


and the Mini Organiser – Large which has 8 zippered compartments with see through panels. Both bags come in a variety of colours.


Sewing Cases
:: These delightful, sturdy cardboard cases come in three different coloured prints; grey, pink and blue. The perfect way to carry/store a small project.


Product of the Month
Vintage Rose Kits
The stunning "Vintage Rose" pattern by Judy Niemeyer now comes in kit form in two colourways, "Rainbow" and "Kaffe" and will be available in early February (we're just waiting for the patterns to arrive from the supplier). Please contact the shop if you'd like to reserve your kit, specifying which colourway you would like.


Patterns
:: The very popular "Carousel" pattern by Everyday Quilts is now back in stock, along with the templates, so if you've missed out, now is your chance to grab a pattern and accompanying template set. A lovely project to hand piece over Summer.



We have 6 patterns from Wendy Williams which we have now kitted up, for your convenience. Please Note; the pricing that you see in the photo is for the pattern only.
:: "Wallflower Quilt". Includes large wool felt pack for flowers and stems. Background fabric, border and binding are NOT included. Pattern $22.00 Pack (excluding pattern) $54.00


:: "Mini Tree of Life Cushion". Includes fabric for front and back of cushion, lining for front of cushion and felt pack as per pattern. Pattern $22.00 Pack (excluding pattern) $56.50


:: "Feather Pillows". Includes wool felt pack to make 2 feathers. Fabrics NOT included in this pack. Pattern 22.00 Pack (excluding pattern) $21.50


:: "Round the Garden". Includes fabric for basket and flower centres, plus large wool felt pack. Background fabric, borders and binding NOT included. Pattern $44.00 Pack (excluding pattern) $131.00


:: "Baby Blooms Cushion". Includes fabric for front of cushion, and felt pack as per pattern. Pattern $22.00 Pack (excluding pattern) $52.00


:: "Birdsville Cushion". Includes fabric for front and back of cushion, lining, binding and felt pack as per pattern. Pattern $22.00 Pack (excluding pattern) $103.50


Magazines
:: Quiltmania Issue 117 has just arrived this week, and we are busily working our way through our distribution list. we have a few spare copies available in store.
Did you know we can get in any Quiltmania magazine or book that is currently in print? If you've seen a book you'd like or are missing an issue of a magazine, let us know the title details and we'll order it in especially. We can also set aside any of the above magazines on a regular basis for you – just call the shop with your details.
Fabrics
New Fabrics
:: "Key West" by Di Ford. Di's fourth and much anticipated range of fabrics is finally in store. Beautiful soft turquoise, salmon pinks, and sage greens in geometrics, florals and quirky prints. Full range available.


:: "La Vie est Belle" fabrics are here to make this pattern and we will have kits available. Please contact the shop if you would like to have one.



Pre-Cuts
:: "Regent Street Lawns" from Moda is now available in layer cakes and jelly rolls.


:: "Poppy Mae" by Robin Pickens. Inspired by fields of poppies, Poppy Mae mixes gloriously vibrant colour with fine detailed drawings from a botanical sketchbook. Vivid red mixes with pink, green, black and ivory in a sumptuous large-scale poppy print. Available in a layer cake.


:: "Caravan Round-Up " by Mary Jane. Mary Jane Butters shows us what "glamping" is all about with the playful sophistication and style of her Caravan Roundup collection for Moda Fabrics. Stirrup-ready boots and bandannas are adored in curlicues, polka dots, lacy motifs, paisleys and the compass rose. Everything involved in staying outdoors from tarps to trailers is glammed up in the pretty as you please attitude that is Caravan Roundup. Available in a layer cake.


Books
We're so excited to be able to tell you we're stocking two Quiltmania books from Australian quilters, Judy Newman and Margaret Mew. Both books did arrive in the shop and were sold out with 2 days! Do not despair though, more have been ordered and will be here shortly. If you'd like to secure your copy, please contact the shop. And for more information on both books, read on……
:: "Quilts for Life Made with Love" by Judy Newman. A stunning array of quilting projects in Judy's inimitable style make this book one to treasure and peruse, as well as exploring the patterns to make your own versions.


:: "Quilts from the Colonies" by Margaret Mew. Enjoy Margaret's reproductions of 19th century quilts from the original 13 British colonies in America with a few from Australia's colonial history too.


:: "A New Spin on Drunkard's Path" by John Kubiniec. Shake up the Drunkard's Path block with quilting teacher John Kubiniec. Go beyond the basics of curved piecing with 12 innovative projects based on a classic pattern. Discover how sewing pre-pieced units like rail fences, half-square triangles, and sixteen-patches can completely change up the Drunkard's Path look. Take it a step further with creative sashings and add-ons to alter the finished layout. The end result looks complex but is actually easy to sew!


:: "All in a Row" from the Moda All Stars. Discover the mix-and-match possibilities for fabulous quilts with row patterns by your favourite Moda designers, including Lynne Hagmeier of Kansas Troubles Quilters, Camille Roskelley of Thimble Blossoms, Edyta Sitar of Laundry Basket Quilts, Pat Sloan, Carrie Nelson, Sandy Gervais of Pieces from My Heart, and many more.
24 row designs in three appealing categories: Classic Patchwork (tried-and-true favourites), Well Seasoned (fresh quilts for every season), and A Bit of Whimsy (playful, carefree designs), plus nine blender rows to help tie them all together
Perfect for a row-robin quilt-along with your friends, the rows can be put together in many different combinations
Includes step-by-step instructions and illustrations, plus a quilt gallery that provides inspiration for various combinations and using stand-alone rows in your decor
:: "By the Block" by Siobhan Rogers. This book shows the time-poor quilter how to make sophisticated, complex-looking quilts that are based on easy-to-assemble quilt blocks. The 18 quilts in the book feature modern fabric choices and clever design, but all use standard quilting techniques that are in virtually every quilter's skill set.


Classes
:: Our 2017 class calendar has been updated and is available for you to view on our website here.
:: We're very excited to announce that Michelle Yeo will be teaching her Quiltmania Mystery Block of the Month for us here at our shop this year. We have Michelle booked for three Wednesdays and two Saturdays throughout 2017. First day is Wednesday 29th March. We have both a morning class option (10am - 12.30pm) or an afternoon class option (1pm - 3.30pm). Cost is $30 per class.
For further details on all classes, please visit our website www.sewnandquilted.com.au
Until next time
Carol
"Patchwork Made Possible"
Website: www.sewnandquilted.com.au
Phone: (03) 9877 1664
Email: carol@sewnandquilted.com.au