Newsletter - February 2017
Our Summer School has been and gone for another year, and we had so much fun!! Many foundation paper piecing projects were started, and a couple even just about completed. Many gorgeous quilts were started in Wendy Williams' classes with colourful wool felt and threads being turned into delightful flowers, leaves, houses and birds. Di Ford-Hall's class unfortunately had to be postponed as Di had to have surgery on her shoulder. However, we have re-scheduled these classes for 6, 7 and 8 March, and now have a few spots available!


Di Ford-Hall Workshops - vacancies in our re-scheduled dates
Monday March 6th (1-day workshop)
:: Colour Confidence and how to Choose and Use Fabric

Spend a day with Di exploring how to choose fabrics and combine colours, to give your quilts that 'WOW!' factor. Master fussy cutting, and learn to look at fabric with 'new eyes' to see the potential different fabrics offer.
There will be a requirements list and a small kit containing fabrics selected by Di that is required for the class – price of kit is $49.50.
Tuesday March 7th and Wednesday March 8th (2 day workshop)
:: Masterclass in Applique and Design

This class covers a variety of Applique techniques including traditional needle turn applique, Broderie Perse, button hole applique along with other options. Learn all the tricks of the trade to enable you to make best use of your fabrics, along with design layout to create a stunning piece of work.
Di will have a selection of her quilts on display for inspiration to help you create your own original design, which can then become a wall hanging, cushion cover or the Centre Medallion for a quilt.
There will be a requirements list and a small kit containing fabrics selected by Di that is required for the class – price of kit is $69.50.
Blocks of the Month Update
:: "Torrington Place" – the first instalment for this BOM will be going out mid-late February. Don't forget we have Michelle Yeo teaching her fabulous techniques used in Torrington Place in some classes this year – first class is Wednesday 29 March. Contact us to book your spot.
:: "Aurifil Thread Club" – due to worldwide demand for this very popular thread in the new 80wt, there have been a few delays getting started with this, but we're working hard at sourcing stock so stay tuned!
:: Check out some of our NEW BOM's for 2017 on our website here. Some fabrics are still to arrive and we will be kick starting these BOM's as soon as we can. More details will be added as soon as we can. So many to choose from!
New Products
Synthrapol
:: Synthrapol is a special detergent used to remove unattached excess dye after dyeing. It also removes sizing from fabric prior to dyeing. A "must have" for dyers!


Wavy Blades
:: From Olfa, this durable, stainless steel blade has a razor-sharp edge. Wave edging is very popular among people making crafts such as memory books and scrapbooks. AND it's great to use on wool felt making ric-rac style pieces to be used as stems or basket handles etc. The blade is designed to be used with only the OLFA® 45mm Deluxe Rotary Cutter (RTY-2/DX).


Bohin Chalk Pencil
:: This all natural chalk comes with a pencil and a pack of white chalk inserts great for marking on wool felt and for marking out patterns for hand or machine quilting. It comes with a sharpener to keep the chalk sharp for accurate marking.


Zipper Pouch Clear
:: The Allium Spool Pouch was designed by Sue Spargo to be used in the Allium Spool Sac (see below under Patterns & Kits) but it can be used alone.
Each pouch has six zippered compartments (three on the front, three on the back), allowing the storage of approximately 72 spools of thread. The clear compartments allow you to quickly locate threads which may be organized by colour, number and or size. The base of each pouch is lined with heavy duty velcro, enabling the pouches to be secured inside your Allium Spool Sac.


Thread Box
:: From Aurifil, this clear thread box will hold twelve Aurifil threads, perfect for storing threads, or carrying them to class or sewing group. Have one for your applique threads, another for hand quilting threads and another for piecing threads.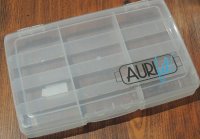 Super Special!!
:: Our Sale Section has some fantastic bargains on it, with more just having been added. Check them all out here!
:: We also now have, in store, a rack of super specials, which are also worth checking out on your next visit.


Patterns & Kits
:: We have expanded our range of Wendy Williams patterns, with several of them available as kits. If there are any of Wendy's patterns you would like us to kit up for you, we would love to help you with that. Just let us know! Meanwhile we have added "Flocks by Night" to our list of what we currently have kitted up and in stock.


:: "Allium Spool Sac". A gorgeous appliqué adorns the front of this sac which can hold three full pouches (see above under New Products) nested inside. A great way to store and carry your threads.


Magazines
:: Quiltmania Issue 117 is in stock.

and Simply Moderne #8 is due in this week!
Did you know we can get in any Quiltmania magazine or book that is currently in print? If you've seen a book you'd like or are missing an issue of a magazine, let us know the title details and we'll order it in especially. We can also set aside any of the above magazines on a regular basis for you – just call the shop with your details.


Fabrics
New Fabrics
:: "Pondicherry" by French General. Inspired by the colours of an eighteenth century French colony in India, Pondicherry includes small indienne prints, block printed floral designs and several larger paisley and border prints. The colours of old India come through, with faded indigo, deep magenta and classic red while pale grey and pearl ground the collection. Selected prints available.


:: "Raspberry and Cream" by Marsha McClosky. Toiles, florals both large and small, spots and all in creams, whites, prints, reds, and aquas, make this a very sweet range. Full range available and pre-cuts.


:: "Liberty" by Liberty of London. We have added another 6 bolts to our gorgeous selection of Liberty fabrics.


:: "Acorn Forest" by Wendy Kendall. This delightful grouping has been hiding in the back corner but it's such a sweet range of fabrics and there is now this free pattern, "Woodland Stars," available in three colourways, when you buy the fabrics.


Books
These books from Judy Newman ("Quilts for Life Made with Love" ) and Margaret Mew ("Quilts from the Colonies" ) have been walking out the door at a great rate of knots, but new stock has arrived!!! Be quick if you don't already have your copy, and you can contact the shop and have one put aside for you to collect.


:: "Splash of Colour" by Jackie Kunkel. Learn to combine a rainbow of bright, saturated colours with crisp black-and-white prints to make amazing quilts. Choose from modern, graphic patterns as well as traditional designs updated by the use of a bold palette. You'll love the high contrast and fun pops of colour in these sparkling designs!


Classes
Our year full of classes has started, and it's all systems go on the stitching front here! We have a few "regular" spots available in the following classes, but often have "casual" spots available in many of our other classes too. Just give us a call (9877 1664) or email: carol@sewnandquilted.com.au or call into our shop to book your spot if you'd like to join us!
:: Hand Piecing with Carol – 2nd Wednesday each month: Either 10am class, 1pm class, or stay for both! Any pattern, any technique e.g. English Paper Piecing, hand piecing, needle turn applique, raw edge applique, applique by back basting etc.
Next class is Wednesday 8th February.
:: Saturday morning – 4th Saturday morning each month: This is a "General Class" and you can work on any project of your choice. Class is from 10am – 12.30pm.
Next class is 25th February.
:: Saturday 4pm – 6pm Group: We don't often advertise this class as it's always been full, but we do now have 2 spots currently available. Come sew with this very fun group of ladies - you are again able to work on any project of your choice, and the class is full of inspiration and learning.
This group runs by the term, and cost is $160 for 9 weeks.
:: Friday Afternoon Sit and Sew: No teaching, but a lovely social afternoon each Friday, from 1pm to 3.30pm. Just $5 for great company, tea, coffee and biscuits to keep up your energy levels up, and of course lots of stitching gets done as well! All welcome.
:: Michelle Yeo Classes: Michelle will be teaching her "Torrington Place" Quiltmania Block of the Month that is available through our shop. Her first class is on Wednesday 29th March. Choose from the morning class 10am – 12.30pm, afternoon class 1pm – 3.30pm, or stay for the day. Cost is $30 per class, or $60 for the double class. First class will be covering the first two blocks of the Block of the Month, which includes reverse applique!
First class is on Wednesday 29th March
For further details on all classes, please visit our website www.sewnandquilted.com.au
Until next time
Carol
"Patchwork Made Possible"
Website: www.sewnandquilted.com.au
Phone: (03) 9877 1664
Email: carol@sewnandquilted.com.au