March 2017 Newsletter
Busy, busy times and it's half way through March already – gosh! Classes are well and truly underway for the year here at our shop, and new fabrics and products are always appearing. We are constantly searching for new fabrics and products that we hope you'll love. Can't get to our shop? Then check out our website, or give us a call. Or even better, visit us at AQC!
Upcoming Events
AQC
Preparations are well underway for our stand at the Australasian Quilt Convention where we will have some great new kits, packs and projects to show you. Here's where you can find us:
When:: Thursday 20th April to Sunday 23rd April
Where:: Royal Exhibition Buildings, Carlton at Stand 47
Blocks of the Month
:: "Torrington Place" Month 1 has been posted, with part 2 due mid to late March. Here's how Month 1 is looking; let us know if you'd like to join in!



:: Other BOM's – products and fabrics are FINALLY starting to arrive - YAY!! Watch out for our email announcements coming VERY soon.
New Products
OLFA Blades
:: Along with our Wavy Blades, we also have Pinking Blades and Scallop Blades. They give terrific effects especially when cutting wool felt. The Pinking Blade is useful if you want to keep the edge of your fabric from ravelling; it puts those familiar "teeth" on the edge of the fabric, for a look that's both decorative and functional. With the Scallop Blade create a finished edge on fleece and other fabrics, photographs and paper. The scalloped design is perfect for scrap booking, card making, crafts, quilting and more. It's two blades in one: use one side to cut a scallop design, the other for a peak design.


Endurance Blades
:: Also from OLFA, their new Endurance Blade cuts TWO TIMES as long as the standard rotary blades. The expertly-honed tungsten tool steel blade with proprietary metal chemistry is designed to cut twice as long to extend time between blade changes, saving you time and money! The replacement blade fits any OLFA 45mm rotary cutter you already have.


Magic Genie Bobbin Washers
:: These slick space age washers eliminate the backlash in the bobbin when changing directions at high speed. Backlash creates "birds' nests" in free-motion quilting and embroidery. Just drop one in the bobbin case, replace the bobbin and you're good to go! The Magic Bobbin Genie fits all domestic machines. Tough and long-lasting.


WonderFil DecoBob
:: WonderFil pre-wound bobbins are wound with an 80wt DecoBob thread in a reusable plastic bobbin, which means there is no glue or wax holding it together (which also makes for happy machines)! DecoBob makes for an ideal bobbin thread as using a finer weight thread will also minimize the bulk in whatever you are doing, however DecoBob also has the strength, versatility, and reliability you can count on.
Pre-wounds are a fantastic choice because they come wound uniformly meaning you will get more consistency in all your stitches, which is especially noticeable when doing embroidery. They also come wound with a higher density of thread than when you wind your own bobbins on a domestic machine. We have these basic, neutral colours currently in stock.


Product of the Month
Aurifil 80 weight!
Yes, it's finally arrived!! All 88 beautiful colours. Individual spools are now available in store, with the full range also available on our website. And we're finally now in a position to prepare to release details for our Club THANK YOU for your patience everyone. The delays have been well and truly out of our control, but we are just about there!! If you'd like to join we will be emailing details VERY SOON, so please contact us at the shop if interested. We have had a lot of Expressions of Interest so far, and we are just starting to work our way through the list.
Aurifil 80wt is a beautiful fine thread to stitch with and perfect for applique and hand piecing. Visit the Aurifil website for further information and product reviews.


Patterns & Kits
:: New from Wendy Williams, "Pick of the Bunch". Buy the pattern, or pre-order your kit while you can! Kits in identical fabrics to those pictured we are told should be available in April (fingers crossed!)


:: "Vintage Rose" by Quiltworx. This stunning pattern includes many of Judy Niemeyer's techniques for paper piecing including cutting, stacking, chain piecing, and some newer techniques to Quiltworx, including curved paper-piecing and curved piecing. It can be made in either wall size or Queen bed size. Our Rainbow version of this quilt is hanging in the shop.



We also have fabrics available to make up kits in the below pictured colourways: Kaffe Fassett version, and also the Rainbow colourway version. Contact us to reserve yours, or we would love to help you to design your own colourway!





Three gorgeous new patterns by Elizabeth Hartman. All these patterns use conventional piecing – no paper piecing! Each pattern includes instructions for making two quilt sizes and a quilted pillow cover.

:: "Lloyd and Lola" available now
:: "Bjorn Bear" Pre-order your pattern now by contacting us by phone or email.


:: "Dogs in Sweaters" Pre-order your pattern now by contacting us by phone or email.

Magazines
:: Simply Vintage Issue 22 is in stock.


:: Simply Modern Issue 8 is in stock.





Quiltmania #118 should be delivered to us this week, so available by Friday! We will have it on the website very soon too or phone us to order your copy.
Don't miss out on any magazine copies. Join our "regulars" list and have your copy reserved or mailed to you each edition. Simply contact us to arrange for this to happen.
Did you know we can get in any Quiltmania magazine or book that is currently in print? If you've seen a book you'd like or are missing an issue of a magazine, let us know the title details and we'll order it in especially. We can also set aside any of the above magazines on a regular basis for you – just call the shop with your details.
Fabrics
New Fabrics
:: "Bally Hall" by Di Ford-Hall. Bally Hall is a stunning reproduction range from Di, with a fabulous pillar print featuring birds and urns of flowers in pink or green, then accompanying geometrics, plaids, tone-on-tone prints and florals. Full range available


:: "Hanky Linen" by Ella Blue. This is a 55% linen, 45% cotton mix and is 137cm wide. 5 colours currently available.


:: "The Blue and The Grey" by Nancy Gere. Transport yourself back to the era of Abraham Lincoln and the start of the Pony Express with this new collection by Nancy Gere. Traditional prints, including a large floral pattern in two colours. Historically accurate in shades of blues, greys, reds and greens. 7 bolts available


:: "Pixie Dots" by I&A. Black on white and white on black; great background fabrics.


Pre-Cuts
:: "Aubade" by Janet Clare. Janet's latest range is "a dawn serenade filled with sunbeams, sparkles, shimmering heat, heavenly rays and blazing sunshine, but most of all light. Daylight. Aubade is geometics with simple and bold motifs in colours to make quilts for sunny days, rainy days, high days, holidays and lazy Sunday afternoon naps." Available in Layer Cakes and Jelly Rolls


:: "Nordic Stitches" by Wenche Wolff Hatling. In white, red and shades of blue, this range features all things Nordic. Available in Layer Cakes.


:: "Ninja Cookies" by Jenn Ski. Take simple geometric shapes and give them a modern spin by varying the size and shape a bit. Then paint the shapes with texture, add hand-drawn lines and colour everything with a contemporary colour palette. Mix it all together and you've got Ninja Cookies. Available in Jelly Rolls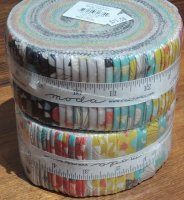 :: "Poetry" by 3 Sisters. Like a good poem, the Poetry collection has a mix of elements that is a 3 Sisters signature. There are beautiful florals, polka dots and a classic text print, and a few stripes and checks for texture. The soft colour palette of Porcelain, Blush, Mist and Stone sets a lovely rhythm that is accented with flourishes of Charcoal and Rose. Available in Layer Cakes and Jelly Rolls


Widebacks
:: "Pondicherry" by French General. 3 beautiful new widebacks


:: "Batiks" 2 new widebacks


Books
:: "Heart of the Home" by Bonnie Sullivan. After her first book, "Bonnie's Garden", the artist is back with a wealth of charming projects inspired by nature and the comfort of home. The folk-art style of her creations is delightfully expressed through the materials that she uses to bring warmth to your surroundings!


:: "Promenade dans un Chateau Hollandais" By Petra Prins and An Moonen. Continue the lovely promenade begun in the garden among Dutch quilts old and new, compiled for us by An Moonen and Petra Prins, this time in the beautiful Middachten castle. In this new book sixteen quilts, reproductions of vintage ones, are explained and photographed in an exceptional setting!


:: "A Common Thread" by Gwen Marston. Explore a life lived in stitches and witness the aesthetic evolution of a treasured quiltmaking artist. Immerse yourself in the beauty of detailed, up-close photos that will inspire and delight you. Revel in this dazzling self-curated collection of Gwen Marston's more than five-decade passion for quiltmaking. Her masterful body of work is presented in a single vibrant coffee table book of stunning photography for the first time ever. From her early pieces inspired by Mennonite quilts to her innovative work with applique and texture to her exploration of modern design, Gwen's aesthetic has remained a glorious marriage of freedom in construction, expert use of unexpected colours and negative space, and happy design surprises. See more than 80 quilts representing more than 40 years and a variety styles--all united by a common thread: the artist Gwen Marston.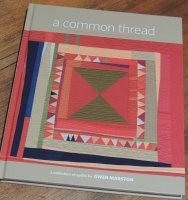 :: "Big Blocks, Big Quilts" by Suzanne McNeill. Quilts designed with these big blocks make up quickly! Try quilting with Layer Cakes. The colours are always beautiful together and create the handmade scrappy look that is so popular today.


:: "Heirloom Quilt Designs for Today" by Lori Martin. Over 210 beautiful colour images display, and text describes, traditional quilt designs and their contemporary counterparts, all produced on modern heirloom quilts from Pennsylvania's Amish country. These quilts employ changing methods of construction and new colours, but still honour long-standing Amish and Mennonite quilting traditions.


:: "Moda All Stars – Scraps Made Simple" from Moda. Join 15 of Moda's all-star designers as they take scrap quilting to the next level with imaginative, eye-catching patterns created especially for your collection of pre-cuts. Got a stash of fanciful fabrics you can't wait to use? Or need an excuse to go shopping? Get inspired today!


:: "One Bundle of Fun" by Sue Pfau. Just one bundle of pre-cuts is all you need to make a simply striking quilt--and make the most of every bit of your fabric! Find 12 quick-to-make quilts in a range of styles that you can stitch with Jelly Rolls, fat-quarter bundles, or Layer Cakes. No additional fabric is needed for the background or borders, and there will be almost no leftover fabric when the quilt is finished.


:: "Moda All Stars – Mini Marvels" from Moda. Join 15 of Moda's all-star designers as they explore creative small quilt patterns that you'll love to stitch. These mini-quilts are tailor-made for scraps. With designs ranging from easy to intricate--plus many make-in-a-day designs--these fun little quilts are showcased in photos that will inspire you to display your mini creations as artful accents to your decor.


:: "Little Handfuls of Scraps" by Edyta Sitar. 32 precious patterns featuring applique and quilting tips. From playful to precious this collection of mini quilt patterns is designed to inspire quilters of all ages. An accomplished quilt and fabric designer, Edyta Sitar explores a myriad of tiny creations, pondering and playing with her favourite scraps until a quilt is born. It's your turn to take inspiration from these tiny treasures and discover the magic of miniature quilts.


:: "El Camino Real" by Nancy and Oliver Rink. The Franciscan missions along the El Camino Real (King's Highway) in California have lent their architectural aesthetic to an eclectic and unique California style that was the inspiration for these fabric and quilts.


:: "Fresh from the Clothesline" by Darlene Zimmerman. For years, quilter, teacher and designer Darlene Zimmerman has been creating exclusive patterns of quilts and small projects for retailers with her Clothesline Club collection. Now, 22 top-drawer quilting and sewing projects are brought to you in "Fresh from the Clothesline"! You'll find a fun range of projects from the quick-to-sew to the large-and-loving-them quilts, all featuring beautiful 1930s reproduction fabrics. A further 6 variations illustrate how to make use of the new fabric designs on the market.


Classes
Special Project Days
::ZIPPER CLASS
Wednesday 19th April – 10am to 12.30pm with Effie
Cost is $30, plus fabrics for cushion, zipper etc
Specialist Teacher Classes
:: "Torrington Place" BOM with Michelle Yeo
Wednesday 29th March – 10am to 12.30pm or 1pm to 3pm, or BOTH! Filling fast – just a couple of spots left.
Future dates for classes with Michelle are currently: Sat 30/4; Wed 30/8; Sat 30/9
:: BEGINNER'S COURSE – Term 2 and Term 3 dates (click here for further details):
Wednesday evenings commencing 3rd May for 7 weeks – cost is $140, plus fabrics etc (Fully booked)
Thursday evenings commencing 10th August for 7 weeks – cost is $140, plus fabrics etc
:: BEYOND BEGINNER'S COURSE – Term 2 and Term 3 dates (click here for further details):
Thursday evenings commencing 27th April for 8 weeks – cost is $180, plus fabrics etc (ONE SPOT AVAILABLE)
Wednesday evenings commencing 9th August for 8 weeks – cost is $180, plus fabrics etc
:: Sit and Sew
It's been great to have some new faces join us for our Friday afternoon group. There are still some places available - All welcome!
$5.00 per week 1.00pm to 3.30pm
For further details on all classes, please visit our website
TEMPLATE CORRECTION FOR "PEONY MEDALLION"
It has been brought to our attention that there was a problem with the template set for "Peony Medallion"; the "G" piece was an incorrect size. New pieces have been sent to us from the manufacturer so if you've bought a "Peony Medallion" template set from us, please bring in your "G" piece and we will replace it with the correct size. The good news is the incorrect size was bigger than required, so if you've cut out the pieces, they can easily be trimmed down with the new piece.
Until next time
Carol
"Patchwork Made Possible"
Website: www.sewnandquilted.com.au
Phone: (03) 9877 1664
Email: carol@sewnandquilted.com.au