What a FABULOUS time we had at the Australian Quilt Convention this year! It was great to see so many of our regular customers there, and to meet so many new faces as well. Thank you for taking the time to visit and introduce yourselves.

Most Popular Show Products
"Dogs in Sweaters" pattern
We sold out of this very quickly at the Show, but more are due soon. Contact us to reserve your copy now!


Sewing Boxes
These beautiful sewing boxes come as kits of the cardboard box pieces which you can cover in fabrics of your choice. There are several styles to choose from and we have some kitted already, or choose your own style and fabrics. These were also extremely popular at the Show and we only have a few kits left, but more are due soon. Reserve your favourite (or two) now! We also have the embellishments for the boxes too. (And if you'd like a hand to make one, check out the class below)


Aurifil 80wt
This thread is a HUGE hit with appliquérs. If you haven't tried it yet, we strongly recommend that you do. The fine thread just sinks into fabric as you're appliquéing and is such a pleasure to use.


BOM Update
Ready for May distribution are:
:: Isabelle
:: Getting to Know Hue
:: Birdwalk
:: Campania
:: Aurifil Thread Club
Registrations are being taken in all of the above, so don't think you've missed out. Contact the shop asap to join in the fun!
"Torrington Place" pack 3 is on track to be mailed out mid-May. Spots are still available for this BOM in what is shaping up to be a STUNNING quilt.
Patterns & Kits
Wendy Williams
We have an amazing array of patterns from Wendy Williams (Flying Fish Patterns) and all the gorgeous fabrics and felts needed to make them, and we're so happy to kit any of them for you; choose your pattern and we can do the rest!


Jacqueline de Jong/Be Colourful
The same arrangement applies to the amazing range of patterns that we have for Jacqueline de Jong; choose the pattern, choose a colourway and we can kit it for you.


Everyday Quilts

Sandra has a stunning new pattern "Topsy Turvy" - who doesn't love a basket!


New Products and Notions
Sew–on–the-Go
A very cute, set of 3 sewing cases for just $39.50. Perfect for carrying a small project to sewing, or for storing small items.


Magazines
:: Quiltmania Issue 119 is due mid-May.
Don't miss out on any magazine copies. Join our "regulars" list and have your copy reserved or mailed to you each edition. Simply contact us to arrange for this to happen.
Did you know we can get in any Quiltmania magazine or book that is currently in print? If you've seen a book you'd like or are missing an issue of a magazine, let us know the title details and we'll order it in especially. We can also set aside any of the above magazines on a regular basis for you – just call the shop with your details.
Fabrics
New Fabrics
:: "A Day in the Country" Our range of Day in the Country spot, stripes and checks is ever growing. These fabrics are great fillers and the range of colours means there's something there for everyone.


:: "Lulu Lane" by Corey Yoder. "Lulu Lane" brings back cherished memories to Corey of the time spent on the lane leading to her Grandma Lulu's home, memories of golden days, bright flowers and lazy afternoons. Six bolts available, plus Jelly Rolls and Layer Cakes


:: "Fractals" by Angela Walters. A fabulous black and white wideback in a strong geometric pattern.


:: "Quilters Linen" Linens seem to be coming into their own in quilting and we have a selection of beautiful quality linens for you to mix in with your cottons; they make great backgrounds for applique work, bags, and of course clothing too.


:: "Rainbow Fish" Marcus Fabrics, in collaboration with RJM Licensing, have created a line of fabrics for Studio 37 Fabrics, based on the popular children's book, The Rainbow Fish, written by Marcus Pfister and published by NorthSouth Books. A touch of glitter adds to the character's magical stories.


Books
:: "Primarily Quilts…2" by Di Ford-Hall. This book sold out almost instantly, but never fear, new stock has arrived! Call to order your copy today.


Classes
Special Workshop Days
::Super Easy Bags, by Aster and Anne
Come for a fun day of applique, decorating and embellishing your own "Aster and Anne" bag, and see just how easy these super attractive bags are to make!
Tutor: Jennifer Moore from "Aster and Anne"
When: Thursday 18 May – 10am to 3.30pm
Cost is $50, plus your choice of "Aster and Anne" bag kit and embellishments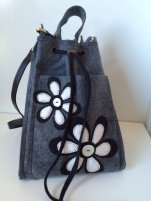 ::Fabric Covered Sewing Boxes
Spend the day learning all the tricks to making your own covered sewing box!
Tutor: Carol Nicholls
When: Thursday 25 May – 10am to 3.30pm
Cost is $50, plus cost of box kit and fabrics/optional embellishments/glue and small equipment requirements list.


:: Sit and Sew
It's been great to have some new faces join us for our Friday afternoon group. There are still some places available - All welcome!
$5.00 per week 1.00pm to 3.30pm
For further details on all classes, please visit our website www.sewnandquilted.com.au
Until next time
Carol
"Patchwork Made Possible"
Website: www.sewnandquilted.com.au
Phone: (03) 9877 1664
Email: carol@sewnandquilted.com.au