Newsletter October 2017
We are now well and truly into Spring with Winter slowly but surely fading into the past! For those who live in Melbourne, how good is it to have some sunshine!! We have a big finish to the year and are currently at the Brisbane Show, then have a trip to Houston and, of course, our Christmas Party.
Shop News
Brisbane Show
Brisbane is our destination for our final show of 2017. We are at Stand D6 and have on display some of our BOM's, close to the full range of Aurifil threads in both 50wt and 80wt (a few have already sold out at the show), Sue Spargo threads and wools, and a big selection of our fabric covered boxes. We will also be participating in the "Make and Take"; at 3pm each day we will be offering a Make and Take Class to learn how to cover an A6 Notebook. The class goes for an hour and the cost is $35.00. Don't miss out!
What: Craft and Quilt Fair, Brisbane
Where: Brisbane Exhibition Centre, South Bank
When: Wednesday 4th October to Sunday 8th October • 9am to 4.30pm
Our Stand: D6
In the Shop
If you haven't already heard, we now have two rooms of fabric for your shopping delight! All of our "Sale" fabrics, widebacks and overflow fabric are now readily available for you to easily peruse and purchase. Stop by the shop soon to check out our new addition and see what treasures you can spy.
BOM Update
Torrington Place
The next instalment for Torrington Place has just been mailed this past week. Please note that just yesterday we were notified of a correction for this current month 5. When I am back from Brisbane I will email our participants, but in the meantime you can find the correction on the Quiltmania website


While the Cat's Away

I contacted our participants a week or two ago to say there was a short delay with the next mailout for Cat's Away as we were desperately waiting for some fabric to arrive to us. We had to have it brought in from the USA, and seems that the freight company has mixed up the countries Australia and Austria - groan! So our fabric is having an additional trip around the world, but at least has been redirected now and should end up with us very soon! So your next packages aren't too far away - fingers crossed!!
Product of the Month
Fabric covered……
Our fabric covered boxes have proved a big hit, and now we also have Fabric Covered Notebooks, so pretty and handy as well for those class notes, quilt ideas, jottings or even (dare we suggest it) shopping lists! Our classes at the Brisbane Craft and Quilt have been a big hit. If you're coming to the show, we'd love to have you join us!


We now also have introduced to our product range Fabric Covered Quilt File Folders which have a space for the included small Olfa cutting mat, an ironing surface also included, and perfect for small projects or to use when hand piecing.


New Products
Sue Spargo Threads - to be added to our website soon, but available in store and for order by phone in the meantime!

We're very excited to be stocking more fabulous threads from Sue Spargo, including her Ellana threads which are a 28wt 2ply wool/acrylic mix thread. Engineered and finished to the highest quality standard, Ellana is extremely user friendly and the perfect wool thread for both hand applique and machine work. Ellana is fray resistant, contains significantly less fuzz, and possesses unparalleled smoothness.


And in the Eleganza Perle Cotton range that we know you love and enjoy using, we've added Sue's Primitive Collection; 50 gorgeous new colours in plain and variegated. These will also be added to our website soon, but available in store and by phone order in the meantime.


By Annie – Mesh & Zippers
Lightweight and a bit stretchy, this mesh is fabulous! Perfect for pockets on bags or anywhere you want to be able to see what you are storing. To help you sew, the mesh is specially coated to be less slippery and easy to work with, while still being soft and pliable. Each package contains 1/2 yard (18 inches x 54 inches) and is enough for numerous small projects. 100% polyester. Washer and dryer safe. May be pressed on medium heat.
And the zippers are perfect for all your bags, totes, and carriers. The wide zipper tape makes for easy insertion and unlike zippers with chunky moulded polyester teeth, these zippers are soft and flexible, making them easy to sew through. The extra long pull makes your bag easy to open and the nylon coil is strong and durable, zip after zip.
These items are perfect for making Wendy Williams' "Zip It and See" bags – pattern now in stock.


Wendy Williams Patterns
Also by Wendy are a whole range of great new patterns and some back in stock.
Wattle Bird Designs
Four exquisite applique patterns are now in stock from Wattle Bird Designs. These stunning quilts are designed and made by Veronique, (the designer behind our "Isabelle" BOM). Some of the quilts from the patterns are currently in the store and will inspire you.
Everyday Quilts
Sandra has another new pattern to tempt you, "Stargazy" made in Sandra's inimitable scrappy style; a joy to behold and we're guessing a treat to make.


Quilt Labels
Something we're often asked for is ready made quilt labels, and every so often we get our hands on a bolt of labels. Purchase in lengths as you wish, or we have them pre-packaged. Such a lovely choice and a label for every occasion.


Magazines
:: Quiltmania Issue 121 – now available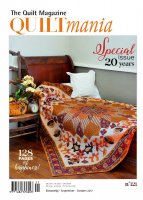 :: Simply Modern Issue #10 – now available. We have been advised by Quiltmania that there was a binding issue with this edition and Quiltmania are having new copies made and shipped to us. If you have a copy that is in need of being replaced, please contact us and once we have our replacement stock we will replace your copy for you.


:: Simply Vintage Issue #24 – now available


:: Quiltmania's "Childrens 2017" issue – now available


:: Quiltmania Diary/Agenda for 2018 – now available in store and by phone order - will be on our website soon!


:: Homespun September Issue – now available.


Don't miss out on any magazine copies. Join our "regulars" list and have your copy reserved or mailed to you each edition. Simply contact us to arrange for this to happen.
Did you know we can get in any Quiltmania magazine or book that is currently in print? If you've seen a book you'd like or are missing an issue of a magazine, let us know the title details and we'll order it in especially. We can also set aside any of the above magazines on a regular basis for you – just call the shop with your details.
Fabrics
:: "Spirit Animal" from Tula Pink. The much awaited new range from Tula is now In Store! Tula always has a story to go with her ranges, and this one is no different; "Once upon a time there was an undiscovered island that spent thousands of years evolving beyond the burdensome limitations of reality. Imagination was both currency and religion in this place. You could be anything that you wished as long as you had the daring to imagine it so. The animals didn't know that they were supposed to be brown so they dressed themselves in shades of purple, orange, pink and green. Every being was the ruler of their own reality and existed solely within the make believe of their own minds, because they could dream it, it would become real here." Full range available.


:: "Big Sky" by Annie Brady. This is Annie's first line and was inspired by spending time in nature. "My love of hiking and the outdoors reflects itself in my work," she says. Greys, tans and a fabulous yellow colour these images of the outdoors. 12 bolts available



:: "Jingle Birds" by Keiki. That time of year is approaching and these whimsical birds on a bright turquoise background could be just the thing for your next project, along with sweet coordinating prints. Selected bolts available.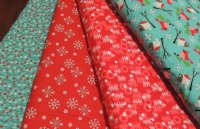 :: "Wee Gallery" by Dear Stella. More small neutral prints in grey, beige, black and white. Great backgrounds and fillers.


:: "Small Things on the Move" by Lewis and Irene. It's not often that boys get fabrics designed just for them, but this range is just the thing for the little man in your life. A joyous mix of aeroplanes, trucks, cars and trains in "boy" colours.


:: "Lanna Wovens" Just feast your eyes on these luscious fabrics! Need we say more?!


:: Miscellaneous We have added these 4 bolts, just to top our repro section


:: "Widebacks" Four more widebacks to add to our range (all widebacks are now in the "new" room)


Precuts
:: "Roses and Chocolates II" by Moda Layer Cakes and Jelly Rolls


:: "Lucky Day" by Momo Layer Cakes and Jelly Rolls


:: "Big Sky" by Annie Brady Layer Cakes


:: "Anns Arbor" by Minnick and Simpson Layer Cakes


:: "Hushabye" by Lydia Nelson Layer Cakes


Books
:: "Quilts in Ireland" by Kaffe Fassett. Spectacular quilt designs and colourways created by Kaffe and his team of designers are showcased in this book. Kaffe's inspiration for the 20 eye-catching quilts was the brilliant colours of western Ireland, with its rich greens of the rural landscape, the stunning colours of the individually painted cottages, and the rich interior of one of Ireland's handsome country houses.


:: "Millefiori 3" by Willyne Hammerstein. After the international success of her first two books, Willyne Hammerstein is back with a wealth of 18 new quilts in this third volume of Millefiori! In this work she continues to explore the richness of the Passacaglia design, in brilliant compositions that are skillfully coloured. Willyne says "Once again, I tried to offer some quilts for beginners and some for those more experienced, who do not fear taking on a challenge! It only remains for me to wish you the following: ENDLESS INSPIRATION and PLEASURE in the way in which you choose to make these quilts!"


:: "Quilts for Life" by Judy Newman. Now back in stock!


:: "Piece by Piece" by Joe and Mary Koval. Mary and Joe Koval, antique dealers and collectors of vintage quilts, offer us in this moving book their story of love for quilts that has endured nearly 40 years. A book in two voices, lavishly illustrated with a hundred photos, it is a treasury of inspiration, full of warmth and stories lived!


Until next time
Carol
"Patchwork Made Possible"
Website: www.sewnandquilted.com.au
Phone: (03) 9877 1664
Email: carol@sewn@sewnandquilted.com.au