Blue skies and sunshine! In Melbourne and also where I am in the USA, and doesn't it just lift your spirits! Houston is just around the corner and I'm getting ready to source some great products and ideas at Market to bring to you in 2018! Meanwhile, it's business as usual at the shop and we have lots to tell you about in this newsletter.
Shop News
In the Shop
We've added more stock to our new room, including some super, super specials with some bolts going out at $6.00 pm! Yep, you read that correctly. This is a great opportunity to bag a bargain or two, and perfect if you're scouting for a backing.
Christmas Party - SAVE THIS DATE!!

It sounds a bit daunting, but we'd like you to have the date set aside, so our Christmas Party is scheduled for Saturday, 16th December from 1.00pm. Invitations are extended to all of our students, customers, and of course teachers too! Once again this year it will be held at One Community Church, 184 Surrey Road, Blackburn (the same venue where we hold our Summer School and Winter Workshops). If you'd like to bring a plate of goodies to share that would be lovely, but most importantly, bring your Show and Tell from classes you've attended during the year, or if you're one of our customers bring along a project you've made this year at home. We all love show and tell, so don't be shy! Cost is just $5 and contact us to get your name on our party list!
SUMMER SCHOOL - WATCH THIS SPACE - BOOKINGS ARE ABOUT TO OPEN!

We know you've been waiting with bated breath for this announcement! Our teachers are all booked in, dates are confirmed, and bookings will be opening VERY shortly so watch this space! Full details of all classes will follow in the next couple of days, but we are extremely excited to be able to announce all of our tutors for this Summer!
Week 1: Monday 15th to Saturday 20th January 2018
Classes: Jane McDonald from BeBe Bold - Sashiko (2 days) and Boro (2 days)

Mary Hitchens - Applique (over 2 days)
Carol - Foundation Paper Piecing (5 day option)
Carol- Fabric covered boxes (Saturday option)
Week 2: Monday 22nd to Thursday 25th January 2018
Classes: Rachelle Denneny - Domestic Machine Quilting (3 x 1 day class options)
Rachelle Denneny - Machine Applique (1 day class) using her award winning techniques
Carol - Foundation Paper Piecing (3 day option)
Carol - Fabric covered sewing box (Thursday option)
Products
2018 Diary
The Quilters Companion magazine 2018 Diary is now available. Filled with photos of fabulous quilts from past magazines; a joy to look at and use.


Fray Stopper Brush Pen
Brush on to prevent fraying on button holes or easily frayed fabrics. Treat the cut edges of ribbon or lace as well as embroidery. Also use to reinforce spots in clothing that have begun to fray.


Pin Picker
Oh No! You've just knocked over the pins! Quick, grab this pin picker which has a magnetic head and extendable handle; no more scrabbling to find that last pin or bending down to pick them up.


Hera Marker
Fabulous for marking seams, particularly for applique, and perfect for marking on quilts for either hand or machine quilting. Simply line up a ruler on the chosen line then run the edge of the Hera Marker along the ruler and a "dented" line appears which, when marked on the wrong side of fabric gets a "memory" and is easily folded under for applique, and when done on a basted quilt gives a guideline to stitch along for quilting. Comes in two sizes and the small size has a nifty pointed end which is great for getting EPP papers out.


Q Wash
With the warm weather upon us, now is a great time to wash your quilts, and Q Wash has been specifically formulated to beautifully launder your quilts. A little goes a long way!
-PH neutral
-Rinse free formula
-No phosphates
-Fully biodegradable
-Perfect for Cotton, Wool, Bamboo and Silk waddings


InvisiGrip
Having problems with your rulers sliding while cutting? InvisiGrip is a clear, non-slip material that is applied to quilting rulers and templates to prevent slipping while rotary cutting and is invisible when applied for clear viewing; it can be removed without leaving a residue. Simple instructions on the cover make it easy to apply.


Patterns
Wendy Williams Patterns
"Tea Party"
Wattle Bird Designs
"ChoOk Quilt"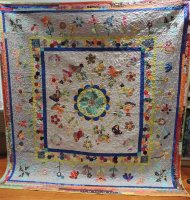 Magazines
:: Quiltmania Issue 121 – now available
:: Simply Modern Issue #10 – now available
:: Simply Vintage Issue #24 – now available
:: Quiltmania's "Childrens 2017" issue – now available
Don't miss out on any magazine copies. Join our "regulars" list and have your copy reserved or mailed to you each edition. Simply contact us to arrange for this to happen.
Did you know we can get in any Quiltmania magazine or book that is currently in print? If you've seen a book you'd like or are missing an issue of a magazine, let us know the title details and we'll order it in especially. We can also set aside any of the above magazines on a regular basis for you – just call the shop with your details.
Fabrics
:: "Fragile" by Zen Chic. If you're looking for the beauty of pureness and simplicity, Zen Chic is always the name that pops up. It is known for sophisticated modern graphics and harmonious colour palettes and the newest collection "Fragile" meets all that. In shades of grey with a fabulous yellow and touches of aqua, this is another stunning range from Zen Chic. Selected bolts available.


:: "Franklin" by Kathy Hall. Rich reds and golds with a strong teal feature in this reproduction range with swirling stripes, bold tiles patterns and accompanying small prints.


:: "Bayberry" by Kate and Birdy. An on-trend palette of shades of blue, peach, linen and ivory in subtle prints create "Bayberry". Building on Kate and Birdie's signature linen-texture print and look, this new collection mixes soft florals with a variety of stripes, check and geometric prints.
:: "Holiday Trimmings" by Blank Fabrics. This holiday collection features beautiful and elegant Christmas motifs. It includes blocks and a panel which is great as the center of a quilt.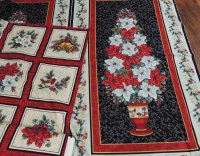 :: "Fall 2017" by Kaffe Fassett. The "Fall" range from Kaffe – need we say more??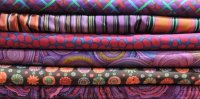 :: "English Garden" by Snow Leopard. The English Garden Collection for Snow Leopard Designs is inspired by the designer's lifelong passion for English gardens. 3 sumptuous bolts available.


:: "Clotted Creams and Caramels" by Di Ford-Hall. A select range of cream and caramel prints. Fabric packs also available!


:: "Widebacks" Another classic and beautiful wideback to add to our range (they're in the "new" room!)


Precuts
:: "Fragile" by Zen Chic Layer Cakes and Jelly Rolls


Books
If you missed out on the Quilt Mania Mystery Quilts over the last couple of years, they are now available in booklet form.
:: "Mountmellick" by Di Ford.


:: "Discovery" by Petra Pins.


Until next time
Carol
"Patchwork Made Possible"
Website: www.sewnandquilted.com.au
Phone: (03) 9877 1664
Email: carol@sewnandquilted.com.au
To add more rows, right-click in a cell, go to row, and either Insert Row Before or Insert Row After.