International Quilt Market and Festival has been and gone for another year, and we had a fabulous time! Lots of new ideas and products on the horizon for 2018, so watch this space for news over the coming months!!
Shop News
Summer School
Enrollments are still available for some fantastic classes. Click here to read all about them.
Summer School is always SO MUCH FUN and there is something for all skill levels - hope you can join us!
Christmas Party
Not to be missed! Just $5.00 for a fun filled afternoon at One Community Church, 184 Surrey Road, Blackburn (the same venue where we hold our Summer School and Winter Workshops). Bring a small plate of afternoon tea to share if you're able, your hand sewing if you wish, and one piece of show and tell. And you know we all love show and tell, so don't be shy! 1.00pm on Saturday 16 December. Phone the shop to secure your place.
BOM Update
Torrington Place
The Mystery is Revealed!
The last installment is being prepared for mailing. How gorgeous does the fully revealed Mystery Quilt look?!
We have just a few kits left that are available for this quilt. Contact us if you are interested!
Christmas Ideas
1. Super Christmas Special
Just arrived! We want to treat you for Christmas so we're offering these gorgeous threads boxes at amazing prices.
:: Di Ford-Hall 80wt threads – Very special price of $79.50 (value of threads $95.00)


:: Anna Maria Horner 50wt threads 2 boxes to choose from – Very special price of $64.50 (value of threads and box over $80.00)


2. Gift Certificates
What quilter doesn't want to be able to choose her own quilting needs – a Sewn and Quilted Gift Certificate allows you to do just that!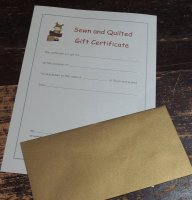 3. Be Colourful Phone Covers.
Available in 6, 6+, 7 and 7+. Just $59.50 will get you a limited edition phone cover, each one unique. Only one of each design available. These are not yet on our website, but contact us asap if interested.


4. 2018 Calendars and Diaries
Get them while they last! Once they're gone, they're gone as we won't be restocking these.


Products
Christmas Kits'
Just in time for Christmas, these ornaments and wall hanging are fully kitted and are easy makes for Christmas fun.


Wall Quilt Kits
We also have these two wall quilts which come kitted out with pattern, fabrics and even include the wadding.


From Sue Spargo
We have a fabulous range of wool pieces from Sue Spargo in her inimitable colour selection - available by phone order, and will be on our website soon. Full, half and quarter pieces available.


Sue's range of Primitive Threads are now in stock too. Sue Spargo's Eleganza Perle cotton collection is designed to meet the specific needs of hand stitchers, embroiderers and embellishers. Passionate about stitching, Sue set out to design a product of utmost quality in collaboration with Andrew of Wonderfil Specialty Threads. Eleganza is made from 100% Giza 88, the highest calibre extra long staple Egyptian cotton and this creates a thread of extreme softness, strength and luster.


Patterns
Be Colourful
Fresh from Houston, guess what came back in our (numerous!) suitcases? – some of each of these 8 new Be Colourful quilt patterns for this year. Simply stunning!


Wattle Bird Designs
Veronique has charmed us with these two patterns featuring feathered friends.
"Chook Quilt"


"Pecking Order"


Super Specials!
We are continually updating our SALE section to make way for all the new fabrics we have arriving. Be sure to check them out in our new room each time you visit us. Some fabrics are as low as $6.00 pm!
Magazines
:: Quiltmania Issue 122 – just arrived late today, so now available, and will be on our website soon. Available in store or by phone order currently.


:: Quiltmania's "Childrens 2017" issue – now back in stock


::
Don't miss out on any magazine copies. Join our "regulars" list and have your copy reserved or mailed to you each edition. Simply contact us to arrange for this to happen.
Did you know we can get in any Quiltmania magazine or book that is currently in print? If you've seen a book you'd like or are missing an issue of a magazine, let us know the title details and we'll order it in especially. We can also set aside any of the above magazines on a regular basis for you – just call the shop with your details.


Fabrics
:: "Pastiche" by Jason Yenter. New from Jason is a stunning range of florals, swirls and fans in vivid jewel colours. Full range available.


:: "Texture Graphix" by Jason Yenter. A range of grey, white and black fabrics just begging to be touched – very textural! 10 bolts available.


:: "Franklin" by Kathy Hall. Rich reds and golds with a strong teal feature in this reproduction range with swirling stripes, bold tiles patterns and accompanying small prints.


:: "Bayberry" by Kate and Birdy. An on-trend palette of shades of blue, peach, linen and ivory in subtle prints create "Bayberry". Building on Kate and Birdie's signature linen-texture print and look, this new collection mixes soft florals with a variety of stripes, check and geometric prints.


:: From A Day in the Country these luscious spots and plaids.




:: "Devon Shirtings" by Karen Styles. A surprisingly eclectic range of prints in the shirtings style. 10 bolts available.


:: "Widebacks" 2 new bolts – spots in black and in white


Precuts
:: "Pastiche" by Jason Yenter. Jelly Rolls


:: "Sunrise" by Laurel Burch. Jelly Rolls


:: "Spirit Animal" by Tula Pink. Layer Cakes


:: "Lulu Lane" by Corey Yoder. Layer Cakes


:: "Ann's Arbour" by Minick and Simpson. Layer Cakes


:: "William Morris" from the V & A Archives. Layer Cakes


Books
:: "Splendiferous Quilts" by Jason Yenter. 6 beautiful quilts featuring Jason's "Pastiche" range of fabrics.


:: "Piece by Piece" by Mary and Jo Koval. Mary and Joe Koval, antique dealers and collectors of vintage quilts, offer us in this moving book their story of love for quilts that has endured nearly 40 years. A book in two voices, lavishly illustrated with a hundred photos, it is a treasury of inspiration, full of warmth and stories lived!


:: "Vintage Quilts and Friendship" by Max and Louise. Pre order now available. Under the name Max and Louise hides two friends Lisa Kerr and Louisa Lott, who have patchwork for common passion. They work together to create, adapt or reproduce old and traditional quilts that they adore and revisit with great talent. They live in Australia near Melbourne and offer us in this first book a very nice overview of their inspiration through the 17 models to make both pieced and appliqued.


Classes
Enrolments are now being taken for our classes for 2018
:: Beginners Course – Wednesday evenings commencing February
:: General Classes – for all levels available most days Tuesday through Saturday
:: Workshops with Michelle Yeo
:: Workshops with Sandra Boyle

NEW: Workshops with Veronique Dilligent
Phone the shop for more details. Our calendar for 2018 will be updated on our website in the coming weeks but bookings are now being taken in person or by phone.
Until next time
Carol
"Patchwork Made Possible"
Website: www.sewnandquilted.com.au
Phone: (03) 9877 1664
Email: carol@sewnandquilted.com.au