As the end of the year is upon us once again, I'd like to thank all of you for your continued support of our shop this year. Without our students and customers we wouldn't be able to continue, so thank you to you all! We'll be back as good as ever in 2018 (and beyond too, I hope!!).
Shop News
Summer School
Not decided on Summer School yet? There's still time to enrol! What a line-up of teachers we have for you: Jane MacDonald, Rachelle Denneny, Mary Hitchens (and myself). A fabulous opportunity to learn from specialist experts. Here's the link for further details.
Sashiko & Boro with Jane MacDonald from BeBe Bold – you've probably seen Jane's beautiful Japanese inspired stand at many of the Shows


Rebecca Kohler Crib Coverlet with Mary Hitchens – choose from reproduction or modern fabrics to make your version of this delightful small applique quilt guided by Mary





Christmas & New Year Opening Hours 2017/18
Saturday 16 December Open 10am to 12.30pm – closing early for Christmas Party! There's still time to let us know if you'd like to come along!!
Sunday 17 & Monday 18 December – Closed
Tuesday 19 – Thursday 21 December – Open 10am – 4pm
Friday 22 – Tuesday 26 December – Closed
Wednesday 27 – Friday 29 December – Open 10am – 4pm
Saturday 30 December – Monday 1 January – Closed
Tuesday 2 January normal trading resumes – Open 10am-4pm Tuesday to Saturday
BOM Update
We have some new BOM's and Clubs planned for 2018, and the continuation of some of our current ones too. Some will be announced at our Christmas Party, but one we can share with you now is the Quiltmania Mystery BOM for 2018, "BATHWICK" designed by Karen Styles. Pricing for each of the six instalments will be $77 plus some options available too, and we are taking Expressions of Interest now and expect this to be very popular. Here's a link for a sneak peek to some of the beautiful fabrics being used. PHONE US ASAP to BE ADDED to OUR LIST!
Christmas Ideas
It's not too late to whip up a little handmade gift or two, and we have some really cute felt ornaments for you to make.


We still have just a few 2018 calendars left: Quilt Art, Quilter's Dairy and Tilda Calendars.


Products
"Leave the Light On"
Use easy techniques to make a clapboard covered house night light (8"x 8"x 5") with 2 1/2" strips. Roof lifts for easy access to the battery-operated lights. Diffuse the light with frosted windows (made from template plastic or semi-transparent paper). Set it on a shelf or hang in a window. Also included are directions for a house ornament (3 1/2"x 3 1/2"x 2 1/2"). Pattern and pre-cut foam packs available.


Eleganza Thread Boxed Collection
Three tiered box containing all 90 Eleganza Threads, one of each. Thread value, including the box is $658.80, OUR SPECIAL OFFER $525.00 (that's over $133.00 saved!). Limited number available.


Meredithe Clark Signature Collection Templates
Meredithe released two new template sets at AQM this year and we have orders in for both. They are "Fly Away" (VT4041MC) a 12" finished block that reminds Meredithe of birds scattering in all directions





and "Fossick" (VT4042MC) a series of 8" finished blocks. There are 9 pieces in the set and innumerable blocks can be made from different combinations. Fossick in your scrap bin and through your doillies to make your blocks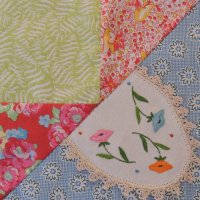 Super Specials!
We continue to refresh our SALE section to make way for all the new fabrics we have arriving. Be sure to check out our super specials from $6.00 pm!
Magazines
:: Simply Modern Issue 11 – now available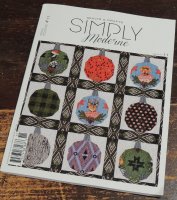 :: Simply Vintage Issue 25 – now available


Don't miss out on any magazine copies. Join our "regulars" list and have your copy reserved or mailed to you each edition. Simply contact us to arrange for this to happen.
Did you know we can get in any Quiltmania magazine or book that is currently in print? If you've seen a book you'd like or are missing an issue of a magazine, let us know the title details and we'll order it in especially. We can also set aside any of the above magazines on a regular basis for you – just call the shop with your details.
Fabrics
:: "Dollhouse" by Amy Sinibaldi. Amy welcomes you to the charming and whimsical miniature house of her imagination with Dollhouse. A mix of sweet florals against a cozy palette of soft greys, rose and warm sienna will take you to a romantic world of childhood dreams. Plus a free pattern to use these fabrics, available here. Full range available.


:: "Panache" by Rebecca Bryan. Panache shines with saturated and bold colours set against graphic, versatile black and white prints. Limited bolts available.


:: "Diving Board" by Alison Glass. Make a splash with Diving Board, a vibrant collection of fabulous prints in stunning colours.


:: "Mas D'Ouvan" so many beautiful prints to choose from!


:: "Composition" by Jane Dixon. Contemporary motifs in subtle colours. Great backgrounds.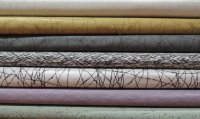 :: "Pioneer Brides" by Audrey Wright. Reproduction range in strong colours and a mix of prints.


:: "Walkabout II" by Fabri-Quilt. Aboriginal art comes to fabric with a distinctive Australian colour palette


:: "Giggleswick" & "CloverdaIe" by Di Ford-Hall. Back In Stock!


:: "Widebacks" 2 new bolts


Precuts
:: "Dreamtime Rolls" from M & S Textiles.


Books
(More Christmas ideas!)

:: "Simple Curves and Quick Curves" by Nancy Mahoney. Love the look of curved piecing but not the pinning and matching required to make a quilt with curves? Author and designer Nancy Mahoney shows quilters how to cleverly create that dynamic look using easy machine appliqué.


:: "Quilting the New Classics" by Michele Muska. All quilters draw inspiration from the past. But how do today's artisans put their personal stamp on classic patterns? Twenty influential quilters from across the stylistic spectrum—including Jacquie Gering, Darlene Zimmerman, Allison Aller, and Victoria Findlay Wolfe—present their unique creative vision of timeless designs. Each pattern, from bear paw to flying geese to log cabin, comes with step-by-step instructions for two adaptations, one traditional, the other modern.
:: "Pieced Hexies" by Mickey Depre. This innovative technique turns English Paper Piecing on its head. Follow Mickey Depre as she twists and turns and just can't stop creating these new hexagon - ahem! Hexie - designs. First learn this technique, which Mickey describes in exacting detail. Then apply it to any hexagon project you see, even if it's in your own imagination. They're bold, they're contemporary and the possibilities are endless!
:: "Modern Machine Quilting" by Catherine Redford. From the start, award-winning quilter and teacher Catherine Redford guides you through every stage of planning, constructing, and finishing a quilt. Learn a multitude of crisp walking foot designs, including straight lines, matchstick, grids, serpentine, spirals, and more. Explore more than a dozen techniques and patterns for free-motion designs. You'll find inspiration in the gorgeous quilt gallery, while the simple projects provide the perfect canvases for fun and useful quilting practice. And as you go, you can take notes on the roomy, workbook-style pages to make this book your own perfect personalised resource for Modern Machine Quilting.


:: "Growing Up Modern" by Allison Harris. Allison Harris shows how beginner and expert sewists alike can make a child's quilt that will be cherished for years to come. Growing Up Modern —16 Quilt Projects for Babies & Kids provides inspiration and guidance in 16 versatile keepsake projects. 7 of the patterns adapt to make crib- and twin-sized quilts. There's a comprehensive overview on quiltmaking basics, step-by-step instructions, and vibrant photographs to help you from start to finish. For those who believe that quilting is impossible when you have kids, the author (and mother of 3) includes helpful hints on finding the time and keeping it fun.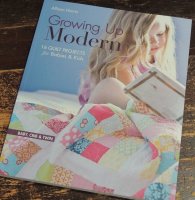 :: "Mi Amor Legacy Applique" by Margarete Heinisch. All the things we celebrate in life are depicted in this Baltimore Album-style quilt! This quilt, created as a celebration quilt, becomes an appliqued documentary representing the things you love. Baltimore Album-style construction beautifully highlights family life, love, America's history, patriotism, social compassion, and spiritual expression. Sixteen original block designs include 53 different flower and fruit appliques. Fifteen embroidery stitches add the finishing touches to this exquisite project. A pattern CD is included.
:: "Quick Quilts with Rulers" by Pam and Nicky Lintott. Best-selling jelly roll quilt authors, Pam & Nicky Lintott, turn their attention to quilting with rulers in this new collection of 18 quilt patterns. These gorgeous quilts come together quickly and easily using specialist quilt rulers. Cut accurate shapes for quick piecing with easy-to-follow step instructions and diagrams to create 18 stunning quilt designs.


Classes
Enrolments and payments are now being taken for our classes for 2018
:: Beginners – Wednesday evenings commencing February
:: General Classes – for all levels available most days Tuesday through Saturday
:: Veronique – Of "Wattle Bird Design" fame will be teaching for us on 3rd Wednesday morning each month, commencing February. Many of Veronique's beautiful appliqué quilts are currently on display in the shop.
:: Workshops with Michelle Yeo
:: Workshops with Sandra Boyle
Phone the shop for more details and to reserve your spot!
Hope to see many of you at our Christmas Party or Summer School. Remember it's not too late to put your name down for either.
Merry Christmas to you all!
Until next time
Carol
"Patchwork Made Possible"
Website: www.sewnandquilted.com.au
Phone: (03) 9877 1664
Email: carol@sewnandquilted.com.au