Newsletter Feb 2018

With our Christmas Party, Product Demo Day and Summer School behind us, it's back to "normal" for us here at Sewn and Quilted. A big THANK YOU to everyone who came along to any of these events – we all had a heap of fun and so much was learned at the Demo Day and Summer School! Check out our Gallery Page here to see some photos of each of these fun events.
Planning is already underway for events during this year, so stay tuned!
Shop News
Pop-Up Shops

We have a pop-up shop next week - maybe we'll see you there?

- 17th February we will be at North of the Yarra (NOTY) Guild meeting
BOM Update
New in 2018
:: "Bathwick" is the Quiltmania Mystery BOM for 2018. Designed by Karen Styles, this is proving to be very popular! Below is a sneak peek at some of the elements which will appear in this BOM. Details here and registrations now open. (To see the fabrics used, scroll down to "Fabrics")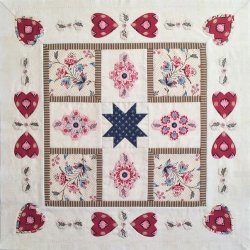 :: "Ribbon Club" Love Braids? Then this is for you. Fantastic value at just $39.50pm. Click here for more details.


From 2017
Many of our BOM's from last year are still available at this stage. Not too many left of some of them though so click here to check them out on our website.
Products
Odicoat
Transparent and odourless, acid-free and solvent-free, Odicoat gives an oilcloth waxed appearance to the fabric while protecting it. Once applied, the fabric can be sewn, cut, hand or machine washed. Dries in 30 minutes to the touch and completely dry within 12 hours. Odicoat is also used as a glue, it allows adhering all fabrics onto all surfaces. For use on fabrics, woods, cardboard, metal, glass, ceramic, pottery, styrofoam, minerals.


606
606 enables adhering permanently onto fabric after ironing for 45 seconds on cotton setting. Glues fabrics, appliqués, badges, ribbons... Can be washed on warm setting (40°C) and dry cleaned. For use on fabrics, jeans, wood, frame- canvas, nonwoven.


Beeswax
Beekeep Beeswax is a blend of Pure Beeswax, Organic Jojoba Oil & Pine Tree Resin, which when heated & applied to cloth, transfers the anti- microbial qualities of beeswax & anti-fungal properties of resin & oil.
With our D.I.Y blend, you can create your own beeswax fabric wraps at home. We have developed this blend over time, to reminisce ancient methods of preservation, damning the age of single use plastics.

Each kit should yield enough wax to cover about half a square meter of cloth, or enough to cover a loaf of bread, cheese, bowls & a couple of jars.
It's a wholesome and rewarding process to produce beautiful hand crafted natural wraps from your own kitchen studio, & a wonderful tribute to breathe life back into old favourite cotton remnants. A recipe for use is given on the back of the packaging or go to the website beekeep.com.au


Patterns
Rachelle Denneny
We so enjoyed having Rachelle as one of our Summer School teachers and we are now stocking lots of her patterns. Click here to see them all.


Wattlebird Designs
Those quilts you've all been admiring from Veronique are now available as patterns! (and Veronique is now teaching with us – see below for details)


Magazines
:: Quiltmania Issue 123 – now available


Don't miss out on any magazine copies. Join our "regulars" list and have your copy reserved or mailed to you each edition. Simply contact us to arrange for this to happen.
Did you know we can get in any Quiltmania magazine or book that is currently in print? If you've seen a book you'd like or are missing an issue of a magazine, let us know the title details and we'll order it in especially. We can also set aside any of the above magazines on a regular basis for you – just call the shop with your details.
Fabrics
:: "Katie Jane" by Lynne Goldsworthy. A beautiful collection of pretty florals with co-ordinating spots and toile-like prints. A gentle reminder of Summer. Full range available. Free pattern for these fabrics is available here


:: "Aunt Grace" by Judy Rothermel. Three prints to add to our 1930's collection.


:: "Liberty". Seven stunning bolts to add to our range including some classics and a must have floral.


:: "Maling Road" by Di Ford-Hall. In classic Di style, pillar prints, florals, leaves, plaids and geometrics in subtle repro shades. Free pattern for these fabrics available here.


:: "Clayton" by Nancy Gere. Named for prominent Civil War soldier Frances Louisa Clayton, this collection of reproduction prints designed by Nancy Gere takes inspiration from the late 1800s - from 1860 to 1895. Designed to help you create visually stunning quilts and featuring a beautiful whole cloth print, Clayton contains large, medium and small prints in a traditional colour palette. Full range available.


:: "Bathwick" by Karen Styles. The inspiration for this new line comes from an 18th Century Georgian quilt from Karen Styles' private collection. Many of these fabrics were originally printed in Great Britain between 1760 and 1780, in an era of romantic poets, landscape painters and distinctive architecture as seen in the historic English city of Bath. Full range available. (These are the fabrics used in the Bathwick BOM – see above)


:: "Ludlow" by Denyse Schmidt. Denyse's new range is a tribute to the old mill towns of New England, where she grew up. Nearly every town developed around a small manufacturing company, housed in a red-brick building situated on a river, with the ubiquitous triple-decker factory housing dotting the landscape nearby. Fabric shopping with her mother meant a visit to the mill itself, winding their way around circuitous halls and dusty rooms with rolls of fabric everywhere. Ludlow is reminiscent of the grace and beauty of a time that has passed, and perhaps a harbinger of beautiful works yet come! 6 bolts


:: "Storybook Sleep Time" by Whistler Studios. Nod off to dreamland with these 1930's inspired prints. Sweet cartoon drawings round out this childhood adventure through dreamland. Be sure to count your sheep while dreaming of this collection! Selected bolts available.


Books
:: "Vintage Quilts and Friendship" by Louise Lott and Lisa Kerr. Behind the Max & Louise Pattern Co. are two friends, Lisa Kerr and Louise Lott, who share a joint passion for quilts. Together they create, adapt and reproduce, with outstanding talent, what they love most – antique and traditional quilts. This Australian duo are proud to announce the launch of their first book. 17 inspirational projects are awaiting quilters who love both piecing and appliqué!


:: "Quilts for all Seasons" by Betsy Chutchian. An enthusiast of traditional quilts, which she affectionately reinterprets, Betsy Chutchian offers us twenty of her latest creations in this book. A star designer for Moda Fabrics, her prints have the vintage charm of the reproduction fabrics that she loves to work with. A pleasant companion of a book to always keep at hand.


Classes
New Classes
:: Veronique Diligent – Of "Wattle Bird Design" fame will be teaching for us on the 3rd Wednesday morning each month 10.00am to 12.30pm $30.00 per class Make any of Veronique's unique quilts, from traditional to quirky in style.


:: Wendy Williams – 1 day workshop on 19th March. Project details to be announced soon. Contact us if you would like to register your interest in this class!
:: Michelle Yeo – extra workshop, Thursday 8th March 10.00am – 3.30pm Michelle will be starting students on her Dahlia quilt. This is a timeless quilt and not nearly as hard as it looks! Can be done by hand or machine, and there are several sized options. Or you are also welcome to continue working on "Torrington Place" in this class.


:: Glenda Cust returns to us on Wednesday 7th March. Like to start a Sue Spargo or a project using wool/wool felt and embellish it with embroidery threads and gorgeous stitch work? Then come join us. Just $30.00 for the morning 10.00am to 12.30pm


:: Fabric Covered Boxes with Carol Nicholls. NEXT WEEK 22nd February. Come join us and learn all the tricks to making beautiful fabric covered boxes. Just $50.00 for the day; 10.00am to 3.30pm



That's it for now. Thanks for reading our newsletter to the very end! More updates to follow soon.
Until next time
Carol
"Patchwork Made Possible"
Website: www.sewnandquilted.com.au
Phone: (03) 9877 1664
Email: carol@sewnandquilted.com.au