We hope you had a happy Easter and enjoyed the brilliant weather we had over those four days. For us it was endless packing and preparation for AQC at the Royal Exhibition Buildings and what a FABULOUS TIME we had. Gosh did you all keep us busy! it was lovely to see so many of our regular and meet some of our on-line customers; thank you to those we hadn't met before for introducing yourselves.

Thanks also to the large numbers of people who joined us each day for our free talk on Fabric Covered Boxes and of course our Make and Take classes which were booked out every day! A know several people missed out, but don't despair!! We will also be repeating these same opportunities at the Craft and Quilt Fairs at Sydney in June, Melbourne in July and Brisbane in October!
New EVENING Classes!
We're often asked for evening classes, so here's your chance to join us - contact us asap as set of classes starts NEXT WEEK!!

:: Michelle Yeo
Michelle is teaching night classes on a Wednesday evening 7pm - 9.30pm

Dates for Term 2 are: 18th April, 2nd May, 9th May, 30th May, 6th June, and 27th June.

Choose from any of Michelle's amazing designs - including Torrington Place, Dahlia, Chelsea Rose (check out Michelle's website for all of her designs: www.michelleyeoquiltdesigns.com.au
Cost: $195.00 for the set of 6 classes



BOM Update

Bathwick

"Bathwick" is the Quiltmania Mystery BOM for 2018. Part 2 has been posted but we are pleased to continue to take registrations for this BOM! Contact us if you're interested and click here for full details.


Product of the Month
Travel Threads
Wendy Williams has been busy again creating these tantalising 6" x 6" images from woolly bits and simple embroidery stitches. Make them to go into a quilt, onto a bag, on a box (see below), along a scarf, or whatever takes your fancy. These are just a few of the ones currently in stock. They are not up on the website as yet, so if you're interested, give us a call!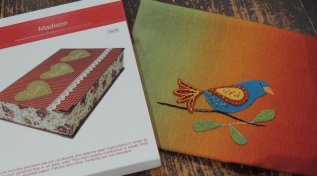 Patterns
Michelle Yeo Designs
We're now stocking selected patterns from Michelle Yeo (who is going to be teaching night classes with us soon – see Classes below for more details), including "Chelsea Rose" and Michelle's ever popular "Giant Dahlia" for which we have the template set now too.


Sue Spargo
We just love this bag pattern from Sue Spargo, "Birds on Parade" and we currently have stock of Sue's "Folk Tails" book! Ring the shop to order your copy.


Everyday Quilts
New from Sandra Boyle at Everyday Quilts is "Nickels and Dimes". This was SO SO POPULAR at AQC! This is a great scrap buster and we have the pattern for the quilt, which includes the template. $28 - phone us to order your copy!


"Threads"
From Fern Textiles and featuring Anthology Fabrics we have the pattern and fabrics to make this spools quilt, the fabrics featured looking like variegated threads on the spools.


Rachelle Denneny
Do you have a Layer Cake you're not sure how to use? How about this fabulous quilt pattern , "Any Which Way" by Rachelle Denneny which is just made to use with a Layer Cake.


"BeColourful"
If you adore foundation piecing, then we have the pattern for you. "Magic Forest" is another stunning quilt from Jacqueline de Jonge and we can kit this for you too as we have all the fabrics Jacqueline used.


"Chopsticks"
We've made this gorgeous quilt from the "Chopsticks" pattern by Jaybird Quilts. It uses a 60° triangle ruler, which we have in stock, and looks stunning in Kaffe, or how about using Tula Pink fabrics? Another crowd favourite at AQC!!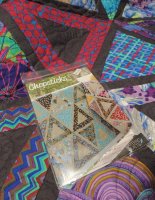 Wendy Williams
More from Wendy; cushions, sewing cases and bag (see below for more info on the bag)
Kits
Woolly Zip It Bag
Another gorgeous pattern for a bag from Wendy Williams, and it's available as a kit! The pattern and fabrics, including the woolly pieces, are all in the kit, just ready for you to stitch. We also have the mesh and a variety of different coloured zips should you wish to make more.


Super Specials
Liberty Fat 1/16ths
We've packaged up Liberty Fat 1/16ths and you can have 6 of them for just $22.00. They normally retail for $4.50 each and who doesn't love a little Liberty?! It's like picking up little lollies - but no calories!


Magazines
:: Quiltmania Issue 123 – now available
:: Simply Modern Issue 12 – now available
:: Homespun April Issue – now available.
Don't miss out on any magazine copies. Join our "regulars" list and have your copy reserved or mailed to you each edition. Simply contact us to arrange for this to happen.
Did you know we can get in any Quiltmania magazine or book that is currently in print? If you've seen a book you'd like or are missing an issue of a magazine, let us know the title details and we'll order it in especially. We can also set aside any of the above magazines on a regular basis for you – just call the shop with your details.
Fabrics
: STOP PRESS!! - Just arrived - "Jardin de Versailles" by French General.


:: "All Stars" by Tula Pink. A zingy punch of colours in stripes, pompoms (as Tula calls these dots), Frog Princes, Racoons, Bees, are all beautifully co-ordinated to create a dazzling range. We have the range, and we've cut up fat quarters and packs as well. Feast your eyes! And here's the link to the PDF pattern "Fusion" to make with the range.


:: "Kaffe" We have some stunning new Kaffe fabrics in store which caused quite a few heart palpitations when the boxes were opened.


:: "Batiks" by Anthology Fabrics (see Patterns above for more of this range).


:: "1930's Packs" We have bundled up gorgeous packs of our 1930's fabrics


Books
Here are some more books we thought we'd showcase in case you missed seeing them!!
:: "Kaffe Fasset's Brilliant Little Patchwork Cushions and Pillows" by Kaffe Fassett. Renowned quilt artist Kaffe Fassett offers 20 sumptuous patchwork cushions for you to make and admire. Each of these simple, graphic cushions is presented in fabrics from the Kaffe Fassett Fabric Collection, with their trademark range of colorways and patterns. This cornucopia of eye-catching designs, comprised of both luscious florals and neat geometric prints, has something for every style and for every level of patchwork skill. Their joyous colours and patterns will go with modern, vintage, or rustic interiors, and even in the garden, too!


: "One Bundle of Fun" by Sue Pfau. Just one bundle of precuts is all you need to make a simply striking quilt--and make the most of every bit of your fabric! Find 12 quick-to-make quilts in a range of styles that you can stitch with Jelly Rolls, fat-quarter bundles, or Layer Cakes. No additional fabric is needed for the background or borders, and there will be almost no leftover fabric when the quilt is finished. Includes tips for increasing the size of the quilt by adding fabrics from a second bundle of precuts.


:: "Modern Heritage Quilt" by Amy Ellis. Use traditional piecing skills to create tomorrow's heirloom quilts. You'll discover how to give your favourite blocks a scrappy, modern look with elegant and up-to-date versions of time-tested quilt designs from popular designer Amy Ellis. Learn a bit about the history behind each block as Amy reimagines them as new classics. Build your confidence to "go modern" with Amy's bright and appealing designs that begin with traditional blocks. Includes tips for using colour and negative space ensure a modern look with the fabric from your stash and get handy hints, from Amy and other top designers, that will help you better understand what makes a scrap quilt successful.


:: "Quilt Petite" by Sedef Imer. Quilt Petite contains 18 sweet small quilts designed by Sedef Imer. Learn how to make mini quilts, cushions, table toppers, doll quilts, place mats, potholders, and lots more. Includes detailed instructions on a wide range of techniques such as patchwork, hand and machine quilting, English paper piecing, foundation paper piecing, raw edge applique, free motion applique, and hand embroidery. Range of projects are suitable for both beginners who wish to learn new techniques and for advanced quilters who wish to practice more challenging ones.


:: "By the Bundle" by Emma Jean Jansen. Who can resist a stack of beautifully coordinated fabrics all neatly folded into a bundle and tied with a bow? Emma uses fat quarters to help you go from "fat" to fab in no time with this inventive, inspirational quilting guide. Discover 12 fat quarter quilting projects that will dazzle any room. The fat quarter cuts allow you to sample all kinds of fabrics, but sometimes there's just not enough to make an entire quilt. By the Bundle solves that problem by offering you 12 quilting projects―from the beginner-friendly to the complex―designed specifically for turning fat quarters into fully completed, totally impressive quilts. Australian author, fabric designer, and former fabric shop owner, Emma Jean Jansen offers you the inspiration you need to turn fat quarters into finished quilts without the head-scratching piecing process. There are over 100 photographs, all shot in Australia, to sweep you off to your inner most creative place. And with 80 step-by-step illustrations peppered throughout, each project will be that much easier to complete.


Classes
Glenda is back!
For those who have been patiently waiting, Glenda is back in May!! If you're interested in exploring EPP or woolly bits and/or embroidery, Glenda is the perfect teacher and after an unforeseen absence with a frustratingly slow healing of an ankle break, she'll be back in May to get you going again. Contact the shop to confirm details.
And don't forget our New EVENING Classes with:
:: Michelle Yeo
Michelle is teaching night classes on a Wednesday evening - 7pm - 9.30pm.

Dates for Term 2 are: 18th April, 2nd May, 9th May, 30th May, 6th June, and 27th June.

Choose from any of Michelle's amazing designs - including Torrington Place, Dahlia, Chelsea Rose (check out Michelle's website for all of her designs: www.michelleyeoquiltdesigns.com.au
Cost: $195.00 for the set of 6 classes
That's it for now. Thanks for reading our newsletter to the very end! More updates to follow soon.
Until next time
Carol
"Patchwork Made Possible"
Website: www.sewnandquilted.com.au
Phone: (03) 9877 1664
Email: carol@sewnandquilted.com.au