Newsletter
The shop is buzzing with preparations for up-coming shows, students making wonderful things in classes, more fabrics arriving, new books and gadgets being delivered……. and we're delighted to be sharing some of that here with you.
Shop News
Our SALE Section has been updated on our website and in-store too!

See below for further details, or go to our website, or of course call in to the shop, and grab yourself some bargains while they last! Many bolts have enough them to make terrific backings for your quilts, or just to top up your stash for those 'one day' quilts! Click HERE to go to the SALE section on our website.

Minimum cut 50cm on sale fabrics, and orders will be processed in the order in which they are received.

Sydney Show
The Sydney Craft and Quilt Fair is being held this year from 20th to 24th June at the International Exhibition Centre, Darling Harbour, and we will be at Stand G19. We do hope to see you there as we have lots of wonderful goodies on offer including:
* Free Seminar Workshop– 10.30am daily on Fabric Covered Boxes

AND
* Make and Take – at 3pm daily join us to make a Fabric Covered Notebook. Cost is $38.00 and you can book your place at our Stand on the day


Winter Workshops 2018
Details will be released VERY VERY soon! Bookings will open THIS WEEK. So keep a close eye on your emails. We have a variety of classes being spread over selected dates during a 2 week period, 4th July to 15th July, and they will be held at our shop this year. Small class sizes, so make sure you get in quick if you'd like to join us!!



Products
Needle Threaders
It's a sad fact of life, but the more years we spend stitching the more (some of us) need help threading our needles. Well, do we have the answer for you! Not 1, not 2 but 4 different needle threaders to come to your aid, each with their own unique take on this requirement of ours!
:: The Hummingbird Needle Threader by Dritz is an indispensable, multi-featured sewing tool that is used to thread hand sewing needles quickly and easily.
Easy-to-hold; needle threader has indented profile for finger placement and gripping
Beak swings upward to expose wire, and then swings downward to protect for storage
Small lanyard hole in top of wing can be used for inserting cord or string
Suitable for most hand sewing needles with the exception of beading needles
Decorative hummingbird shape
:: Also by Dritz, their LED Needle Threader
Threads needles quickly and easily
Retractable threader protects the wire when not in use
Bright LED light activates when threader is exposed
Finger grips provide stability and comfort
Built-in thread cutter cuts thread to desired length
Lanyard hole at base of threader for inserting cord or string
:: Use Fons and Porter's Quilter's Needle Threader for an enhanced sewing experience. This nickel-plated needle threader is an efficient tool as it allows you to thread both hand and sewing machine needles. It provides a good grip that makes threading fast and easy. You can follow the simple visual instructions on the threader to be able to rightly thread the needles. Includes three needle threaders each attached to a disk. MY FAVOURITE FOR USE WITH THE THICKER ELEGANZA THREADS AND A CHENILLE SIZE 24 NEEDLE - this combo works a treat!


:: LoRan Needle Threader for use with thicker threads and great with perle 8 threads and a large eyed needle
Easily threads long eye needles.
Place hand needle on threader.
Lay thread over the hook.
Pull thread through the threader.
Sewing Wand
And when that needle gets lost (or you spill your pins) the Matilda's own "Magnetic Sewing Wand" comes to the rescue, with a big handle to grip as you swipe the area to pick up the missing object, or use it to store pins/needles as you're sewing.


That Purple Thang
It pushes, pokes, pulls, fudges, turns, stuffs….and anything else you come up with!


Specialty Rulers
:: Creative Grid's Non Slip 60 Degree Diamond Ruler - Increase your diamond design possibilities with the 60 degree Diamond Ruler. Cut 60 degree diamonds up to 8 1/2 inches; hexies up to 8-1/2 inches; and 60 degree triangles up to 8-1/2 inches. Maximize the design potential by cutting them from strip sets. There are even markings included to cut 120 degree side setting triangles. The ruler slides easily over the fabric until pressure is applied. Then, Creative Grid's exclusive gripper holds the fabric in place while cutting, eliminating slipping and miss-cuts! It comes with fully illustrated step by step instructions or scan the QR Code printed on the instructions to view a video demonstration.


:: The Clammy 12" by Latifar Saafir Studios - can be used to cut 12″ clamshells, circles, half circles, quarter circles, and orange peel shapes. This is the "new and improved" Clammy 12" which now includes registration marks right on the template for easy transfer to your shapes.


:: Jaybird Quilts' Hex N More - What makes this ruler special is that it can cut 4 shapes in 4 sizes; Hexagons, 60° Triangles, Half Hexagons and Jewels. The ruler comes with full colour instructions, including cutting and piecing diagrams. All of the pieces can be rotary cut from strips.


Product of the Month
Liberty
Our Liberty fabrics are still currently on sale at $49.50 per metre, or buy 6 fat 1/16ths and get 1 free! (It's like selecting lollies!)


Patterns
Di Ford-Hall
Di's new pattern "Maling Road" is now in stock and we also have several of the main fabrics that Di used on our shelves – but be quick, we have a sneaky feeling these will walk out the door fast!


Wendy Williams
Wendy also has a new pattern out, "Around the Corner", in inimitable Wendy style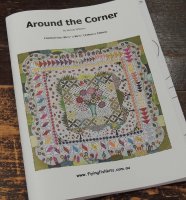 Michelle Yeo
"Chelsea Rose" is Michelle's latest release, made in two different colourways, both equally stunning.


Wattle Bird Designs
Veronique also has a beautiful pattern; "Charlotte" was inspired by the King George coverlet, lots of circles, and a boutis from a wedding quilt of the same period. And the real thing is currently hanging in the shop


Sue Spargo
Looking for a small project? "Birds on Parade" is a very sweet zippered bag and don't forget we have the "woolly bits" and threads, and Sue's "Creative Stitching" book to help you.


Magazines
:: Quiltmania Issue 125 – this sold out so quickly, but is now back in stock!


:: "Simply Modern" and "Simply Vintage" are due the middle of June (expected later this week - fingers crossed!)
Don't miss out on any magazine copies. Join our "regulars" list and have your copy reserved or mailed to you each edition. Simply contact us to arrange for this to happen.
Did you know we can get in any Quiltmania magazine or book that is currently in print? If you've seen a book you'd like or are missing an issue of a magazine, let us know the title details and we'll order it in especially. We can also set aside any of the above magazines on a regular basis for you – just call the shop with your details.
Fabrics
:: "Sequoia" by Laundry Basket Quilts. A beautiful bird print, sweet daisies, subdued spots, tone on tone florals and geometrics, Sequoia is another gorgeous range from Edyta. Full range available.


:: "Larisa" by Mary Koval. Larisa, by Mary Koval is inspired by fabric designs from 1870. A French toile with a wonderful forest-like scene of trees and flowers is almost magical. Full range available.


:: "Beach Road" by Jen Kingwell. Inspired by Jen's love of prints from the 50s and 60s, this brighter palette and collection of cheerful prints filled with quirky elements reflects her mood living on the beautiful south east coast of Australia. Selected 15 bolts


:: "Mighty Machines" by Lydia Nelson. Flying, hauling, transporting; Mighty Machines is a collection inspired by Lydia's three young boys (and one grown boy) who have a passion for trucks, planes, fire engines, and all things that move. Whether it's peeking out the window each week to catch the garbage truck, spotting planes in the sky, watching a firetruck flashing by, or rolling around a toy dump truck, these machines have amazed boys and girls of all ages. Mighty Machines fabric is made with iconic images of vintage and unique motorized transport; dedicated to those with a passion for strength, steel, and horsepower. Full range available


:: "Insignia" by Alison Glass. Insignia is a new concept for AG fabrics. It is a "near solid" fabric line. They are beautiful, saturated fabrics that coordinate with other AG printed fabrics and walk the line between solid and print. Tiny signature motifs float here and there on a background of high quality Andover fabric, allowing the texture of the weave to show subtly as an element of the design. These are sure to become useful coordinates, as well as lovely standalone fabrics. Full range available.


:: "Susannah" by Windham Fabrics. Ornate flowers, leaves and scrolling vines from hand carved wood block printing found in the fabric archives of the Colonial Williamsburg Foundation inspired this collection from Colonial Williamsburg. It is named in honour of Lady Susannah Beverley Randolph, wife of Sir John Randolph, the only Virginian knighted from the day Roanoke Island was settled in 1585 until independence was declared in 1776. Full range available.


:: "Jo's Shirtings" by Jo Morton. Sweet shirtings in beige; perfect backgrounds or fillers. Selected bolts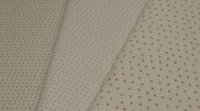 SUPER Specials
Our Sale Section has been updated!! Check out our website for heaps of new fantastic specials, or if you're visiting make sure you come into the Sale Section. Denise Schmidt……Tula Pink……Victoria Findlay-Woolfe…..Tilda……repro's……just sayin'!!


Books
:: "Folk Tails" by Sue Spargo. Africa is deeply embedded in Sue's soul; consumed with a need to make a quilt full of childhood memories which continually fill her mind… the beauty of the land that is rich with wildlife and wild land… Sue sat down with pen and paper and sketched Folk-tails, a piece of her soul.


:: "Fresh Cut" by Sue Spargo - CONTACT US TO PRE-ORDER YOUR COPY. To celebrate the last of her breast cancer treatment and her 13th BOM, Sue designed a garden of vases filled with flowers, leaves and berries appliquéd in a multitude of mediums, then enhanced with embroidery in a vast array of fibres differing in type and weight. Select vases include optional advanced stitchery to enhance each garden and challenge you creatively. It is Sue's hope that this project will brighten your days as it has done for her and leave you with a truly stunning work of art.


:: "Making Happy Quilts" by Mieke Dyucks. Belgian-born Mieke Duyck is definitely a quilter of her time! Mieke draws inspiration from her origins to drive her joy-filled imagination. Making Happy Quilts, Miekes's first book, is a charming and refreshing collection of her latest original quilts. Included are 18 projects, both small and large.


:: "Parallel Lines" by Pamela Goeke Dinndorf. Pamela's new book offers 12 fascinating projects for all experience levels: beginner, intermediate and advanced. She explains how to use stripes to give your creations a three-dimensional visual effect.


That's it for now. Thanks for reading our newsletter to the very end! More updates to follow soon.


Until next time
Carol
"Patchwork Made Possible"
Website: www.sewnandquilted.com.au
Phone: (03) 9877 1664
Email: carol@sewnandquilted.com.au