We've recently returned from the Sydney Craft and Quilt Fair and we had a WONDERFUL time! Such a positive and inviting vibe at the Show. And of course, so lovely to meet in person many of our on-line customers and people who have joined us for a BOM or Club before. Yes, we will be back there again next year!

Our Winter Workshop program is well underway right now, and we have had a fantastic response to our classes. Thanks to everyone who has been able to join in the learning and fun, and for those who missed out on spots, hopefully we can have you join us for future workshops or classes.
Shop News
Melbourne Show
So with Sydney behind us, and Winter Workshops in the final days, our attention is now firmly fixed on the Melbourne Craft and Quilt Fair. Once again we will be offering a free Workshop/Seminar Talk, and a Class each day. Here are the details, and hope to see you there!
When: 26-29 July 2018 – 9.00am to 4.30pm
Where: Melbourne Exhibition Centre, South Wharf
We are: Stand A19
* Free Seminar Workshop– 10.30am daily on Fabric Covered Boxes AND
* Make and Take – at 3pm daily join us to make a Fabric Covered Notebook. Cost is $38.00 and you can book your place at our Stand
Vic Quilters Winter Gathering
We are so pleased to be having a stall at and being a part of the Victorian Quilters Inc Winter Gathering where they will celebrate their 25th Anniversary and also hold their Annual General Meeting. For further details click here
Date: Saturday 11th August 2018
Time: 9.30am to 4.00pm
Where: Ivalda Masonic Centre, 40 Salisbury Avenue, Ivanhoe 3079
(Opposite Darebin railway station)
Guest Speaker: Katrina Hadjimichael.


Extra Classes Scheduled - we have managed to find some time to schedule some extra class opportunities with two of our very popular teachers!

Thursday 9th August - Michelle Yeo will be teaching - choose either the morning (10AM to 12.30pm), afternoon (1pm - 3.30pm) or of course stay and enjoy the whole day! Cost is $60 for the full day. You can work on Torrington Place BOM, or maybe you'd like to start the Dahlia quilt, or maybe work on one of Michelle's other designs.

Thursday 16th August - Veronique Diligent will be teaching her clamshell quilt "Pele Mele". So many people missed out on her class in our Winter Workshop program, that we jumped at the opportunity to schedule it again! Some come along and get started, or continue on the Pele Mele journey if you have started it already. So many ideas and inspiration with what you can do with clamshells! We recommend the full day option (10am - 3.30pm) so you can get a really good start on the project, but you can also choose either the morning (10AM to 12.30pm) or afternoon (1pm - 3.30pm) space permitting. Cost is $60 for the full day. You will also need to purchase the pattern and template - cost of these items totals $40. Contact us asap to book your spot!




BOM Update
"Bathwick"
"Bathwick" Part 4 is due out mid to late July. We have just a few spots left in this BOM program, so if it's something you're considering, please contact us to join in making what is shaping up to be a very stunning quilt.
Aurifil Thread Clubs
As our first 50wt Club has finished for some people, we are excited to announce that due to popular demand we have now put together a second 50wt Club with completely different thread numbers!
Join us to expand your collection, or to start one with these gorgeous threads! Full details can be found on our website.
Products
Binding Clips
Jen Kingwell has put out her own set of Binding Clips and they are great value. So handy for holding down binding, keeping EPP pieces in place, use instead of pins when inserting zips in bags…….so many different uses.



Cushioned Quilter's Square 'n Blocker
June Tailor's Cushioned Quilter's Square 'n Blocker is a portable pressing, squaring and blocking board measuring 14" x 20". It allows you to press and square the smallest quilting pieces with complete accuracy.
The thick, bonded cushioned layer eliminates seam-edge impressions and protects the raised details of appliqué. Bias lines in both directions. Ideal for blocking needlework and knitting.
Press and square the smallest quilting pieces with complete accuracy
Thick, bonded cushioned layer eliminates seam-edge impressions and protect the raised details of fine appliqué
Generous 18" x 24" size with printed 14" x 20" grid
Convenient carrying handle
Thread Magic
This is the ultimate thread conditioner!
Strengthen threads for long life
Eliminates static
Prevents tangling and fraying
Does not melt or freeze
Safe for all threads and fabrics
For hand or machine sewing

Kits
Rachelle Denneny Designs
We now have kits / starter packs of fabric in two of Rachelle's gorgeous designs…..
Any Which Way
and Crossroads
Both are easy to make and stunning in these kits fabrics. Enquire through the shop for further details.

Patterns
Emma Jean Jansen
We are so excited to have Emma teaching for us at our Winter Workshops, and we now have some of her patterns in stock too.
Harlequin Stars
Australis Blooms

Wendy Williams
Wendy has added two more to her "Travel Threads" range: Seagull and Wreath



Magazines
:: Quiltmania Issue 126 is due out mid-July - ETA late next week.


:: "Simply Modern" Issue 13 now available


:: "Simply Vintage" Issue 27 - new stock has been ordered as this was so popular it sold out in a flash! It features a beautiful quilt by Judy Newman. Contact us to reserve your copy.


Don't miss out on any magazine copies. Join our "regulars" list and have your copy reserved or mailed to you each edition. Simply contact us to arrange for this to happen.
Did you know we can get in any Quiltmania magazine or book that is currently in print? If you've seen a book you'd like or are missing an issue of a magazine, let us know the title details and we'll order it in especially. We can also set aside any of the above magazines on a regular basis for you – just call the shop with your details.

Fabrics
:: "Emma" by Kathy Hall. Featuring Jacobean florals, flower vines, and stripes in reproduction colours of cream, pumpkin, cocoa and blue. Selected bolts


:: "Sarah French" by Nancy Kirk. When Sarah French signed her quilt, she claimed the right to own her quilts and bedding and the ability to bequeath them to whom she chose. For this collection, ten fabrics were chosen from one of Sarah's original quilts, using original colours plus additional colorways from other fabrics in the quilt. Full range available.


:: "Jamestown" by Nancy Gere. Poison green, chrome yellow and fugitive purple harken back to the civil war period in this fabric collection by Nancy Gere. Add a touch of danger to your quilts (without the poisonous results) with this collection. Featured in different hues, these prints will make fantastic scrappy quilts. Selected bolts


:: "Amazing Stars" by Stof. Get in early for Christmas; stars, Christmas trees, ornaments and "snow" in traditional Christmas colours. Selected bolts.


:: "Kaffe Grid Wall" by Kaffe Fassett. Kaffe's fabulous Grid Wall is back in stock. Makes the perfect backdrop as a design wall for your quilting projects.


:: "Kaffe Classics" by Kaffe Fassett. We're adding more wonderful Kaffe's to our collection.


:: "William Morris Classics" by William Morris. We have chosen a select range of William Morris classics, including the beloved "Strawberry Thief"


:: "Wideback" by Mary Koval. Thankfully we've been able to procure another bolt of Mary's wideback – the last one sold out in three days!! Get in quick!


:: "Tea Dye" the ever popular "Tea Dye" fabric is also back in stock


Books
:: "Pure and Simple" by Maggie Bonanomi. Follow this celebrated maker on a creative journey inspired by a simpler time. In Maggie Bonanomi's world, hand-drawn patterns and hand-dyed wool combine with artful motifs and casual stitches. The result is a plain-and-simple collection of primitive projects that are a delight make, use, and enjoy.


:: "Elegant Embroidery" by Reiko Mori. Welcome to the artful world of Japanese master embroiderer Reiko Mori, a place where embroidery embodies charm, grace, and true elegance. Choose from more than 40 picturesque motifs, many grouped into enchanting vignettes to mix and match; then use the motifs in 11 projects, including totes, fabric-covered boxes, and more.


:: "Making Happy Quilts" by Mieke Dyucks. Belgian-born Mieke Duyck is definitely a quilter of her time! Mieke draws inspiration from her origins to drive her joy-filled imagination. Making Happy Quilts, Miekes's first book, is a charming and refreshing collection of her latest original quilts. Included are 18 projects, both small and large.


:: "Parallel Lines" by Pamela Goeke Dinndorf. Pamela's new book offers 12 fascinating projects for all experience levels: beginner, intermediate and advanced. She explains how to use stripes to give your creations a three-dimensional visual effect.


:: "Millefiori Quilts" Books 1, 2 and 3 by Willyne Hammerstein. All three are now back in stock! If you missed out last time, get in this time!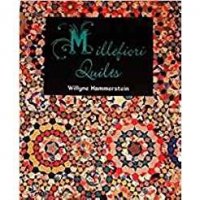 :: "Teach me to Make my First Quilt" by Pat Sloan. Expert teacher and quilt designer Pat Sloan guides you through each and every step as you make your first quilt. Pat's easy-to-follow instructions and more than 140 clear how-to photos make it fun to start, stitch, and finish nine classic blocks and nine simple quilt projects--even if you're an absolute beginner. Learn the basics, from selecting notions and cutting fabric to machine sewing to quilting and binding, all from a skilled instructor with a warm, patient teaching style.


That's it for now. Thanks for reading our newsletter to the very end! More updates to follow soon.
Until next time
Carol
"Patchwork Made Possible"
Website: www.sewnandquilted.com.au
Phone: (03) 9877 1664
Email: carol@sewnandquilted.com.au
To add more rows, right-click in a cell, go to row, and either Insert Row Before or Insert Row After.