For all of us who have just come through cold winters…..welcome to Spring!! Bring on the warmer weather! But before you dash outside to sunshine, take a moment to read our very full September newsletter which has bucket loads of exciting news as well as lots of information about gorgeous new products and fabrics…….
Shop News
Brisbane Show
It's just a few weeks until we head up to the Brisbane Craft and Quilt Fair. We will be at Stand D06. Show dates are 3rd to 7th October (inclusive) and we hope to see you there!


We will be offering a free talk at 10.30 each day on Fabric Covered Boxes, or join us for our Make and Take session at 2.00pm daily with our Fabric Covered Notebook.


Summer School
We know you're waiting with bated breath for Summer School details, and planning from our end is in full swing, so here's an overview of just some of what will be on offer:

- our Foundation Paper Piecing classes that are so very popular every year
- Rachelle Denneny will be returning in 2019 with more amazing Free-Motion Quilting classes, and some other surprises too!
- Jo Dunsmuir from Frankie & Rae will be offering some dress making classes!

More revealed very soon, but in the meantime...…………..

SAVE THESE DATES:
Week 1 – Monday 14th January to Saturday 19th January
Week 2 – Monday 21st January to Friday 25th January
CHRISTMAS PARTY
Another date to be saved in your diary – Saturday 15th December. More details to come…….
BOM Update
Part 5 will be available mid to late September. We have a few spots still available if you'd like to join us.



Fresh Cut
Our latest BOM is "Fresh Cut" by Sue Spargo. We have just about finalised pricing for this BOM and expressions of interest are still be taken if you want to take part. If you have already put your name down on our list, we will be in touch very soon!


New Products
Sue's "Stitches to Savour" 2109 Calendar has arrived! Fans of quilting, sewing, and embroidery will love treating themselves to a year of beauty as only Sue Spargo can stitch it! The work of this acclaimed folk artist is a celebration of texture, fabric, and embellishment. Now Sue's captivating pieces are here to enjoy with a different design each month in this spectacular wall calendar. Whether it's a source of aesthetic pleasure, inspiration, or both—the 'at-a-glance' calendar format allows for Sue's quilts to truly shine; every page bursting with bright colour and exquisite detail.


From Windflower Embroidery, we are so pleased to be stocking these beautiful pastel pin cushion kits. Jan has used simple embroidery stitches to create these elegant, felted pin cushions. The perfect gift.
The kits come in four colour ways; yellow, green, pink and blue


Made from a soft leather which conforms to your finger shape, with an opening at the end to free your fingernail.



Christmas Products
Yes, now is a great time to start your Christmas sewing, and here are a few things to tempt you
Mittens: a kit to make these sweet mittens


Wall Quilt: a kit to make a snowman quilt


Fabrics: from bright and bold, to elegant and traditional, Christmas fabrics for your favoured project


Product of the Month
We have every 50 weight thread colour in stock and a large range of other weights too. We are happy to order in for you ANY colour thread in ANY weight at ANY time. Just let us know! And if you haven't yet tried Aurifil, our staff and many of our teachers and students recommend it for all aspects of patchwork; hand piecing, hand applique, hand quilting, machine piecing, machine applique and machine quilting. Just ask our staff to guide you to the thread weight most suitable for your project.


Magazines
:: Quiltmania Issue 127 due next week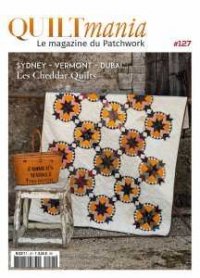 :: "Simply Modern" Issue 14 due late September


:: "Simply Vintage" Issue 28 due late September


Don't miss out on any magazine copies. Join our "regulars" list and have your copy reserved or mailed to you each edition. Simply contact us to arrange for this to happen.
Did you know we can get in any Quiltmania magazine or book that is currently in print? If you've seen a book you'd like or are missing an issue of a magazine, let us know the title details and we'll order it in especially. We can also set aside any of the above magazines on a regular basis for you – just call the shop with your details.
Fabrics
:: "Baltimore House" by Paula Barnes. Paula pays tribute to our fellow fibre artist Sue Garman, whose passing in 2017 was a great loss for the quilting community. Sue's passion for expert handwork, appliqué and Baltimore style quilts inspired Paula's new collection of reds, greens, blues, golds and browns, a group that is sure to enhance any project. Panel plus full range available (selection of fabrics shown).


:: "Naptime" by Darlene Zimmerman. This adorable panel features baby animals in 1930's prints.


:: "Stitch in Time Quilt Labels" by Deborah Edwards. We're always asked about pre-made labels for quilts, and this great print has loads of different labels to choose from so there's sure to be something in the panel for your latest project (and possibly those in the pile that are awaiting their own label!)


:: "Play All Day" by Sandy Klop for American Jane. Fabulous 1930's prints imbued with Sandy's flair for colour and pattern. Selected bolts


:: "Basic Mixology" by Studio M. Great filler prints in spots and grids. Selected bolts


:: "Palette Pleasures" by A Day in the Country. Fabulous range of checks, stripes and spots in pastel shades this time. Full range available.


:: "Ki-Coo Gardens" by Laura Berringer. Laura gives us an eclectic, light hearted look with East Asian influences. It begins with lush flowers in a buttercup palette, inspired by a kimono-style blouse that was recently spotted in an exclusive boutique in Japan. Laura adds pretty florals, a playful honeybee print, and lacey miniature fans. Selected bolts


:: "Enchanted Floral" by QT Fabrics. Neon florals on grey/black backgrounds, teamed with swirling botanical prints on aqua and grey. Selected bolts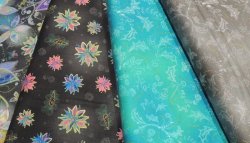 :: "Kismet" by Paula Nadelstern. Paula says the mandala (featured on this print) is a spiritual and ritual symbol in many religions, representing the universe. Selected bolt


Books
:: "Elegant Embroidery" by Reiko Mori is now back in stock! This super popular book sold out so quickly last time. Just look at the adorable little bag that we've made from one of the designs in the book. Kits to make your own are available.


:: "Little Handfuls of Scraps" by Edyta Sitar. Playful little quilts to fall in love with


:: "Candy Store and More" by Kay Connors and Karen Earlywine. 10 fresh quilts that take their cues from 1930s classics. Inspired by antique quilts and patterns discovered in old newspapers, these projects are brimming with old-fashioned charm.


:: "Distinctive Dresdens" by Katja Marek. Discover 26 Dresden Plate designs that shine with intricate, scrappy style. You can sew each stunning Dresden on a sewing machine or by hand using English Paper Piecing--Katja shows you how, every step of the way. Plus she's figured out all the pattern sizes for you. Just trace, cut, and stitch for piecing that's a perfect fit!


:: "Jelly Roll Quilts in a Weekend" by Pam and Nicky Lintott. Jelly roll experts Pam and Nicky Lintott have designed a new collection of stunning quilt patterns that come together in super-fast time. This jelly roll quilt collection includes 15 contemporary quilt designs that are quick and easy enough to piece in a weekend.


:: "Tributes and Treasures" by Paula Barnes and Mary Ellen Robison. Perfect for showcasing reproduction fabrics, each nostalgic design in this charming collection is inspired by quilts from the 1800s. Be inspired by top-selling traditional patterns from Red Crinoline Quilts. Take in the beauty of 12 bed sized quilt patterns reminiscent of the 19th century and enjoy the fascinating tales of yesteryear which bring each quilt to life


:: "Embroidery Stitching" by Christen Brown. Get the pocket guide to embroidery that everyone's talking about―a sixty-four page mini book perfect to take on the go! With over thirty essential embroidery stitches, this all-in-one reference is ideal for hand stitchers, crazy quilters, and free-form embroiderers. Learn the best stabilizers and thread for embroidery, then branch out with eye-catching embellishments. This petite paperback is the perfect size for your purse or embroidery kit―a great gift for all sewists!


Classes
We have a huge week of specialty teacher classes lined up for you during the 1st week of the school holidays:
Sunday 23rd September – Stitching Day with Glenda Cust. Explore wool felt embroidery A couple of spots are available!
Tuesday 25th September - "Pele Mele" with Veronique. Continue or start your journey on this very popular quilt. A couple of spots are available!
Wednesday 26th September – Di Ford-Hall. WOW - a couple of spots are available in Di's class too!
Friday 28th September – CLOSED for "Grand Final" (Public Holiday)
Saturday 29th September – Stitching with Michelle Yeo. Continue with "Torrington Place" or any of Michelle's other quilts. A couple of spots are available!
That's it for now. Thanks for reading our newsletter to the very end! More updates to follow soon.
Until next time
Carol
"Patchwork Made Possible"
Website: www.sewnandquilted.com.au
Phone: (03) 9877 1664
Email: carol@sewnandquilted.com.au