As I write this we are in full 'get ready' mode for this year's trip to Houston. We were at the Brisbane Craft and Quilt Fair a couple of weeks ago and had an absolutely wonderful time. What a great show! Did you visit us up there? That was our last big show all done and dusted for 2018, and what a great way to finish for the year. A huge tick off our planning schedule for sure! We have re-booked for several shows again next year and, can you believe it, initial planning is already underway for AQC in April!!
There's no rest for the wicked so they say, as Houston International Quilt Market and Festival here we come. Can't wait to share everything new and trending that we discover over there with all of you.
Shop News
Summer School 2019
Full details of all classes will be available later this week (technology permitting!!) Once bookings OPEN don't delay, register ASAP as there has been lots of interest in Summer School in general for 2019 - from quite a few interstate people as well! How good is that!!
Christmas Party
Bookings are now OPEN! Phone us or pop into the store to book your spot.
When: Saturday 15 December, 1pm to 3.30pm
Where: Once Community Church, 184 Surrey Road, Blackburn
Cost: $5.00
What to Bring: A quilt (or other project) you've finished or started in one of our classes for Show and Tell. Plus a small plate of Afternoon Tea to share.
BOM Update
A few spots remain, so it's not too late to join. The quilt is going to be a stunner! Further details can be found on our website by clicking here.


Fresh Cut
"Fresh Cut" by Sue Spargo has been extremely popular and has everyone enthusiastic for some stitching and embellishing!
It has been a HUGE undertaking for us to pull this BOM together, and final pricing is getting closer by the day. We were hoping pricing would be available by now, but we continue to work to find the best prices possible that we can put together for this BOM. We are very close! Numbers will be capped, so make sure you don't miss out! Contact us if you would like to be put on our Expressions of Interest list.


We have a sample of the centre of this stunning quilt by Nancy Rink hanging in our shop. Oh my, it's gorgeous! Full details on our website here.


New BOM's for 2019
We have several in the planning stages, and they will be showcased at our Christmas Party. Join us if you can so you don't miss out on being the first to see them! After that, they will be added to our website and newsletter too of course.
New Products
New stock is on its way. Order yours NOW so you don't miss out. So very popular and a totally inspirational calendar full of stitching ideas!


Use on your finger to grip and pull needles. The soft silicone grips well and stays in place. Package contains two needle pullers in two different sizes, Small and Medium


Needle Grabbers allow you to grip that stubborn needle and pull it through. Rubber discs that grip and pull the needle through the heaviest fabric with the greatest of ease. Handy for quilting, needlepoint and embroidery.


Tabletop Tannenbaum
Mouldable batting, unique heat activated fabric design by Poorhouse Quilt Designs. 18in x 45in.


Tiny 3 inch safety scissors with cover. Scissor blades are rounded for safety – so cute!


Attach this stem to the spool holder on your machine and you can easily sew with large spools of thread!


"Campania"
We have just a few of the complete kits of "Campania", one of our previous BOM's from a while ago, and the full kits have been drastically reduced to clear - down from $635 to just $399. If you thought you might try this BOM and didn't get around to taking part, now is your chance!



Patterns
From Claire Turpin Designs, "Poppies Van", an applique pattern to make this very cute caravan cushion. The pattern includes easy to follow instructions, measurements & pattern templates.


Also from Clair Turpin Designs, from the Pick & Mix range, "Wedges" and we also have the template for quick easy piecing.



Christmas Ideas!!
We have so many great ideas for Christmas…….
:: "Sleigh-Full" by Aunties Two. Something different to hold Christmas cards, or festive treats


:: "Flocks by Night" by Wendy Williams. A snowy Christmas scene wall hanging (or table runner!)


:: "Oh Christmas Tree" by Wendy Williams. Fabulous felt and fabrics wall hanging


:: "Leave the Lights on" by Aunties Two. Make a Christmas house night light or ornament with this pattern, and we also have the pre-cut interfacing kits too


:: Travel Threads patterns by Wendy Williams
This is the perfect Kris Kringle gift - $5.00 for the pattern or $15.00 for the kit! We have a great range of different patterns


and there's a Christmas tree one too!



Product of the Month
"Pele Mele" and "Pele Mele Encore" by Veronique Diligent
Have you started yours yet? This has become hugely popular, with large clamshells being embroidered, embellished, deconstructed and hand stitched together for a stunning result. The only limit is your imagination!
Classes available and we will be starting a group off at Summer School also. Ask to join the Facebook Pele Mele group!


Magazines
All of the latest issues of these magazines are exceptionally inspiring!
:: Quiltmania Issue 127 – with a feature article on our lovely Glenda Cust!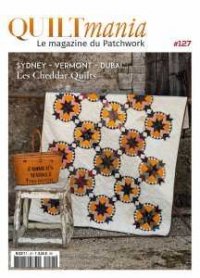 :: "Simply Modern" Issue 14 - featuring a wonderful review and images from the Sydney Quilt Show


:: "Simply Vintage" Issue 28 – some gorgeous quilts and totes too


Don't miss out on any magazine copies. Join our "regulars" list and have your copy reserved or mailed to you each edition. Simply contact us to arrange for this to happen.
Did you know we can get in any Quiltmania magazine or book that is currently in print? If you've seen a book you'd like or are missing an issue of a magazine, let us know the title details and we'll order it in especially. We can also set aside any of the above magazines on a regular basis for you – just call the shop with your details.


Fabrics
:: "Vintage Roses" by Stof. A stunning selection of a large rose print, small print and stripes with roses. We chose the blue and beige colour ways. Selected 7 bolts


:: "Nicholson Street" by Max and Louise. This is the first range from this Melbourne based duo, featuring reproduction conversation prints in low volume tones, great for backgrounds. Full range available.


Books
:: "Simply Stitched" by Yumiko Higuchi. Through her unique combination of wool and cotton thread, designer Yumiko Higuchi reinvents traditional embroidery for modern makers. "Simply Stitched" includes 20 beautiful embroidery motifs, plus projects and instructions. Use these stunning designs to create accessories, clothing, and home decor. Enjoy classic embroidery motifs that are made new with fresh colour combinations and incredibly textured detail.


:: "Simply Stitched with Applique" by Yumiko Higuchi. Embroidery artist Yumiko Higuchi offers modern makers a fresh new spin on her beloved designs by combining embroidery stitches with hand appliqué. Learn how to use felt, cotton, and linen to create beautifully layered designs full of texture and contrast, then embellish with just a handful of basic embroidery stitches. With over 30 motifs inspired by nature, you'll find designs for hydrangeas, sunflowers, lilacs, tulips, poppies, birds, bees, strawberries, and more. Use these motifs to create any of the sophisticated bags, pincushions, coasters, tea towels, and wall art projects included in the book, or be inspired to design your own. Step-by-step colour photos illustrate Higuchi's favourite tips and techniques for transferring designs, appliquéing motifs, and embellishing with embroidery stitches. Full-size templates and easy-to-follow instructions are included for each design, so you can get started stitching straight away.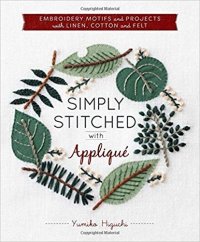 :: "Moda All Stars Merry Makers" by Lissa Alexander. Celebrate the season with the Moda All-Stars! They're back with 15+ handmade gifts to give or keep. Choose from speedy stockings, pincushions, and coasters to make in multiples. Or, choose a patchwork project: lap quilts, table runners, and other deck-the-halls designs abound. Complete most projects in a weekend or quicker--no need to fear the holiday time crunch! And just for fun, learn all about the favourite seasonal traditions of the All-Stars in a series of Q&A's.


:: "Small Wonders" by Serena Boffa Soda. Peek inside the teeny-tiny world of Italian quilt maker Serena Boffa Soda, a place where petite pleasures abound! Sweet sceneries inspired by the outdoors reveal delightful details upon a closer look: thumbnail-high houses complete with doors and windows, tiny pumpkins ready to harvest, mini sheep grazing in a mini meadow, laundry hung on a pint-size clothesline, and birds the size of sunflower seeds taking flight—all worked in simple (yes, you can do it!) embroidery and fusible appliqué. One book, four projects, endless combinations--same-sized blocks throughout make it easy to switch designs from one project to another. Only basic sewing and embroidery skills are needed, and the pages are packed with how-to for every detail.


Classes
We have some upcoming Specialty Workshops for the rest of 2018. Book into any of these classes to receive tuition and insight into the teacher's take on their unique quilts/projects.
Veronique Diligent
Wednesday 14th November 10.00am – 12.30pm or/and 1pm - 3.30pm. This is my monthly Hand Stitching class, and Veronique is filling in for me in this class while I'm away. There's room for a few extra people, and some of Veronique's students might like to join her in this class too.
Wednesday 21st November 10.00am – 12.30pm
Normal 'general class fees' apply.
Michelle Yeo
Wednesday 31st October 10.00am – 12.30pm
Wednesday 31st October 1.00pm – 3.30pm
Cost $30.00 per class
Glenda Cust
Wednesday 7th November 10.00am – 12.30pm
Wednesday 5th December 10.00am – 12.30pm
Cost $30.00 per class
Sunday Stitching with Glenda Cust

Sunday 2nd December 10.00am – 4.00pm
Cost $85.00 per class
Di Ford-Hall
Wednesday 24th October 10.00am – 12.30pm
Wednesday 24th October 1.00am – 3.30pm
Cost $30.00 per class
That's it for now. Thanks for reading our newsletter to the very end! More updates to follow soon.
Until next time
Carol
"Patchwork Made Possible"
Website: www.sewnandquilted.com.au
Phone: (03) 9877 1664
Email: carol@sewnandquilted.com.au