As you read this I am having a wonderful time at the Houston Quilt Market and Festival! For those who aren't familiar with it, Quilt Market is a Trade Show and huge resource for all things new in the Patchwork Industry. All of the fabric and pattern designers are there – I still try not to be too wide eyed as I walk past (maybe even chat to!) the likes of Tula Pink, Kaffe Fassett, Amy Butler, Edyta Sitar, Allison Glass and so the list goes on. Plus we are proudly represented by many of our amazingly talented Aussie designers too! All of them totally awe inspiring and amazingly talented!
Once Market finishes, a day or too later after pack down and re-set has happened, Festival starts which is open to the public - normally about 60,000 people attend. If you haven't been, you need to put it on your bucket list! And the accompanying quilt show is something to behold by itself - hundreds and hundreds of the most beautiful quilts all on show. Maybe we'll see you there next year!

Shop News
Summer School 2019 - BOOKINGS OPEN
Bookings are very busily filling. Are you going to join us in January? The classes are now on the website here, or if you would prefer us to post you a printed brochure just give us a call or drop into the shop and pick one up.
Christmas Party
Bookings are now OPEN! This is sure to get you into the Christmas Spirit! Phone us or pop into the store to book your spot.
When: Saturday 15 December, 1pm to 3.30pm
Where: Once Community Church, 184 Surrey Road, Blackburn
Cost: $5.00
What to Bring: A quilt (or other project) you've finished or started in one of our classes for Show and Tell. Plus a small plate of Afternoon Tea to share.
BOM Update
Bathwick - the full quilt!
We can now reveal the entire quilt top! Looking great, isn't it?! And yes, we can still take a few more enrollments if you'd like to make this stunning quilt. This quilt is hanging in the Quiltmania booth here in Houston, and is a stunner. It's so good to see it all now revealed!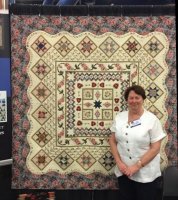 Fresh Cut
This quilt is hanging in Houston on Sue Spargo's booth, and we are lucky to have had a friend lend us her quilt to hang in our shop. If you are interested in joining us to do this as a Block of the Month and are not yet on our Expressions of Interest list, please contact us asap.


New BOM's for 2019
We have several new Block of the Month's being planned for next year, and we are currently working very hard on pricing and fabric supplies etc. so we have everything organised and in place ready for next year.

We can share a couple of exciting details with you now, and are happy to take Expressions of Interest for either of the following. More details as soon as we can finalise pricing.

QUILTMANIA BLOCK OF THE MONTH 2019 - We are proud to be able to confirm that we will again be one of the official shops offering this BOM. And next year's designer is JEN KINGWELL! A very different style of quilt to the last few years, and if you're familiar with Jen's designs you can start to imagine how amazing this is going to be! We have few other details just yet, but what we can share at this stage is a little image to tempt you - contact us to get your name on our list!




BECOLOURFUL BLOCK OF THE MONTH - Designed by Jacqueline de Jong, this is a stunner! We've seen it hanging on Jacqueline's booth in Houston, and it's amazing. We placed our fabric order while we are here so we are ready to start this early in the New Year. Let's know if you'd like to join us. Final pricing is being finalised.


New Products
Diaries, Planners & Calendars
Planners
We know, we know, but there are things that need planning and diarising (like Summer School!) and these planners are 2 year ones – to keep you right on track!


Quiltmania Diary 2019
The ever popular diary from Quiltmania is due soon and if this is your favourite go-to diary, pre-order yours now!


Quilters Companion Diary 2019
Features a selection of images showcasing the very best of handmade items to decorate and adorn your home, from quilted wall hangings, quilts or table runners to cushions, from Australian Quilters Companion magazines


2019 Quilt Calendar – That Patchwork Place
Now in its 17th year of publication, That Patchwork Place's quilt calendar has become a favourite of quilters worldwide. Show off a love of quilting year-round and enjoy sewing along each month too: the calendar spotlights 12 dazzling, front-page-worthy projects plus a 28-page pull out booklet that includes complete directions for making each one.


The Art of the Quilt 2019
With its history rooted in American tradition, quilting has long been an activity meant to bring women together to converse and create. Celebrate the art of quilting as a time-honoured craft and modern expression of individuality in this calendar, complete with 13 unique designs, patterns, and instructions by Weeks Ringle and Bill Kerr of Modern Quilt Studio. This large format wall calendar features grids with ample room for jotting notes.



Other items
Ground Walnut Shells
We've been asked for these lots of times and now finally we've sourced them. Ground walnut shells are perfect for putting into pincushions as they help keep needles and pins sharp.



Patterns
We're branching out and are very pleased to bring you some dress making patterns……..(and check out our new fabrics below to make them with!)
Frankie and Ray
Frankie & Ray is a small collection of women's clothing and accessories designed by Jo Dunsmuir who lives in coastal Victoria. We're starting out with these three wearables……. and of course Jo is teaching for us at Summer School - are you going to join us?


Sew Liberated
Sew Liberated was one of the first indie pattern companies to emerge from the crafting renaissance, and hopes to remain a small, friendly, and fashion-forward presence in the indie designer community.



Christmas Ideas!!
Kits
Here's our "Mittens"" and "Snowman wall hanging" both available as kits


"Snow Folk" Kit



Patterns
Various ornament patterns


"Home for the Holiday's" quilt



Kris Kringle and Stocking Stuffers
Lighted Needle Threader
Super bright LED light helps you see the eye in your needle. Features a zipper pull hook.



Lighted Magnifier
Use as a magnifier and with a push of the button, light the area you're looking at too.


Clip-all
Uses a very powerful magnet with a clip that can attach to shirts, bags, jackets and more



Jumping Jack phone and tablet clip
These clip stands enable you to use your smartphone or tablet hands-free as you stream video or video-chat.
Open the stands' arms to attach to sides of your phone or tablet
Can be used in both vertical and horizontal modes on your device
Especially idea for travel, but also usable at home or in the office
Compatible with most phones and many tablets

Flat and Stubby
Two hand held screwdrivers, flat and Phillips head, ideal for getting into small spaces (and for your sewing machine!)



Product(s) of the Month
With so many seeming to travel around Christmas and New Year, we thought we'd feature some products that won't take up much room in the suitcase but are oh, so necessary for our sewing!
Baby Safety Scissors
Tiny 3 inch safety scissors with cover. Scissor blades are rounded for safety – so cute and perfect for airplane travel.


Karen Kay Buckley "Perfect Adjustable Rulers"
This ingenious ruler is four rulers in one package. The five piece ruler easily snaps together to form a 6", 12" 18" or 24" length. It has clear and accurate markings along with 30, 45 and 60 degree angle markings. It will be your perfect travel companion. All the pieces pack nicely in the felt bag enclosed in the package. Available in 3" or 6" versions


In your beautiful decorative storage box you receive 4 corner units, 4 one inch, 4 two inch, 4 four inch and four eight inch pieces. 20 pieces in all. These pieces snap together similar to a puzzle piece. It will allow you to build a square from 4", the inside of the square is in whole numbers, and up to a 24 1/2" square, the outside is in 1/2" increments. You can easily use your rotary cutter along the outside of these acrylic pieces. Perfect for trimming applique blocks.



Hex-n-More
Perfect storage cases for all those little bits and pieces. Available in orange, blue or pink



Travel Threads kits
Wendy Williams' "Travel Threads" patterns are available as kits or just the pattern – the perfect size for a holiday project or as a Kris Kringle present or stocking stuffer.



Magazines
All of the latest issues of these magazines are exceptionally inspiring!
:: Quiltmania Issue 127 – with a feature article on our lovely Glenda Cust!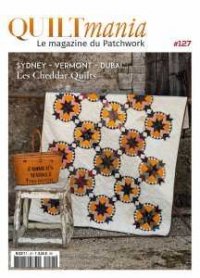 :: "Simply Modern" Issue 14 - featuring a wonderful review and images from the Sydney Quilt Show


:: "Simply Vintage" Issue 28 – some gorgeous quilts and totes too


Don't miss out on any magazine copies. Join our "regulars" list and have your copy reserved or mailed to you each edition. Simply contact us to arrange for this to happen.
Did you know we can get in any Quiltmania magazine or book that is currently in print? If you've seen a book you'd like or are missing an issue of a magazine, let us know the title details and we'll order it in especially. We can also set aside any of the above magazines on a regular basis for you – just call the shop with your details.

Fabrics
:: "Liberty Classic Tana Lawn" & "Liberty Linens" by Liberty of London. Our range has expanded again, and look at it now! And fancy that, both the Tana Lawns and the Linens are ideal for using with our new dressmaking patterns (see "Patterns" above). What a co-incidence!!


:: "American Country" by Lecien. Beautiful soft cottons – 2 bolts selected (perfect for a dress or shirt)



:: "Memoire a Paris" by Lecien. These beautiful floral prints in cotton lawn fabrics are so soft and smooth and they ideal for making quilts and garments (see "Patterns" above) 6 bolts selected



:: "Floral Collection" by Lecien. Two stunning rose fabrics from the aptly named Antique Rose range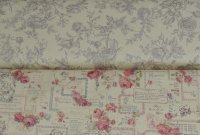 :: "Christmas Fabrics" - assorted. If you're after some Christmas fabrics, we have a great range for you to choose from; classic, subtle, fun, modern………the choice is yours!


Books
:: "Button Box Quilts" by Vicki Hodge
How can you free up storage space, save money on batting, and time quilting? It's easy–just create reversible quilts! Interested in a challenge now that you have found three good reasons to make two-sided quilts? In Vicki Hodge's NEW book, Button Box Quilts, she has created and paired up 20 of her favourite quilt tops to create 10 reversible quilts. In order to successfully complete her projects, Vicki provides us with valuable guidelines, hints, and most of all a great reason to look on the back of our quilts! 20 projects (10 reversible quilts). Available to pre-order (due late November).



Classes
We have some upcoming Specialty Workshops for the rest of 2018. Book into any of these classes to receive tuition and insight into the teacher's take on their unique quilts/projects.
Veronique Diligent
Wednesday 21st November 10.00am – 12.30pm
Cost $30.00 per class
Glenda Cust
Wednesday 5th December 10.00am – 12.30pm
Cost $30.00 per class
Sunday Stitching
Sunday 2nd December 10.00am – 4.00pm
Cost $85.00 for full day class
That's it for now. Thanks for reading our newsletter to the very end! More updates to follow soon.
Until next time
Carol
"Patchwork Made Possible"
Website: www.sewnandquilted.com.au
Phone: (03) 9877 1664
Email: carol@sewnandquilted.com.au